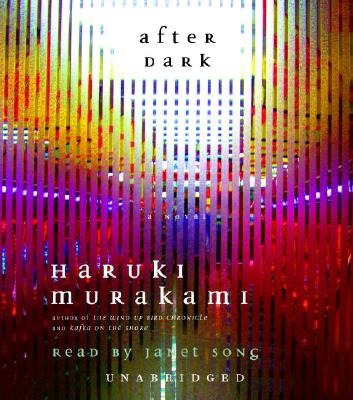 After Dark
Compact Disc

* Individual store prices may vary.
Other Editions of This Title:
Digital Audiobook (5/7/2007)
Paperback (4/29/2008)
Paperback (9/1/2010)
Paperback, Japanese (9/15/2006)
Paperback (10/1/2008)
Paperback (6/1/2008)
Hardcover (5/8/2007)
Description
A short, sleek novel of encounters set in Tokyo during the witching hours between midnight and dawn, and every bit as gripping as Haruki Murakami's masterworks The Wind-Up Bird Chronicle and Kafka on the Shore.
At its center are two sisters–Eri, a fashion model slumbering her way into oblivion, and Mari, a young student soon led from solitary reading at an anonymous Denny's toward people whose lives are radically alien to her own: a jazz trombonist who claims they've met before, a burly female "love hotel" manager and her maid staff, and a Chinese prostitute savagely brutalized by a businessman.
After Dark moves from mesmerizing drama to metaphysical speculation, interweaving time and space as well as memory and perspective into a seamless exploration of human agency. Murakami's trademark humor, psychological insight, and grasp of spirit and morality are here distilled with an extraordinary, harmonious mastery.
Praise For After Dark…
"In After Dark, night seems to be where Murakami was headed all along, a place where the ordinary acts that he has written of so evocatively stand out against the velvety bas relief of the Tokyo night, a backdrop that gives these acts both danger and wonder . . . He has a natural curiosity about people, a belief that they contain wonders, perhaps none so great as the capacity for human connection."
--Charles Taylor, Newsday

"After Dark [is] hypnotically eerie, sometimes even funny, but most of all, it's [a book] that keeps ratcheting up the suspense . . . Through his short, enigmatic chapters, Murakami--aided by Jay Rubin's perfectly pitched English--manages to convey something of the interconnectedness of the city and its constant air of expectancy and danger."
--Michael Dirda, The Washington Post Book World

"The world [Murakami] creates--of fast-food restaurants and strange hotels, people dying (almost literally) to make connections but able to do so only in fits and starts--continues to be one of the most intoxicating around. His knack for making the everyday exotic, and the elusive tangible, is as sharp as in his 'bigger' works, [just as] the middle ground he stakes can still make the earth move."
--Ed Siegel, The Boston Phoenix

"After Dark is a gripping dream [in which] Murakami reveals the darkness in which his characters' amorphous fears flourish. But so too does their poignant and brave willingness to rebirth themselves every day . . . In Murakami's hands, hope is nothing more nor less than a deep, cleansing breath."
--Julie Wittes Schlack, The Boston Globe

"[Murakami's] flair for making dialogue bloom from inhospitable soil, the way he can magic a memorable encounter out of thin air, and his conviction that there is salvation to be found in the company of strangers--all these familiar Murakami traits animate the pages of the novel and give it the writer's special stamp. Yet in After Dark this signature style seems to have found itself a fresher groove . . . It almost asks to be devoured by insomniacs in a single all-night sitting."
--Margaret Hillenbrand, Financial Times

"After Dark is a streamlined, hushed ensemble piece built on the notion that very late at night, after the lamps of logic have been snuffed and rationality has shut its eyes, life on earth becomes boundariless and blurred . . . Standing above the common gloom, Murakami detects phosphorescence everywhere, but chiefly in the auras around people, which glow brightest at night and when combined."
--Walter Kirn, New York Times Book Review

"This is a sparely written book, floating on its metaphors, a delicate and simple story, beautifully told."
--Joanna Rose, The Oregonian

"After Dark [is] one of the author's most fully realized short fictions . . . He's drilling down to the essential mysteries of existence."
--Laura Miller, Salon

"What you'll love: The book's spare yet eerily atmospheric scenes will fester under your skin, poking at your equilibrium long after you've finished reading."
–Alexis Burling, The Washington Post

"There's a dreamlike quality to Haruki Murakami's mesmerizing new novel, [where] amid the alienation are flickers of hopefulness springing from seemingly random, serendipitous human interactions and connections . . . Like a latter-day Walker Percy or Albert Camus, Murakami raises questions about perception and existence [and] captures the palpable loneliness and essential unfathomability at the heart of modern life."
–Heller McAlpin, The Christian Science Monitor

"This strange, mesmerizing, spell-binding, voyeuristic novel is impossible to put down . . . The reader prowls among [its characters], uneasy about such a relentless perspective, yet unable to relinquish it. In such a way does Murakami skillfully and seamlessly strip the human condition of its disguises and ponder the impenetrable mysteries of the human heart."
–Sam Coale, The Providence Journal

"This mesmerizing tale [is] a metaphysical mystery that's surprisingly linear in structure and almost tidy for [Murakami's] oeuvre . . . After Dark deftly explores existentialist notions of purpose, control, and identity."
–Corrie Pikul, Elle

"Unlike many of Murakami's other characters, After Dark's two heroes aren't acutely passive slackers. Night may darken their daily duties, but it can't blacken the ever-shifting shutter speeds of Murakami's cockeyed Kodak . . . His unusual in-camera narration permits even his minor misfits to shine while focusing on how humanity overlooks the spectral figures toiling before dawn . . . It is straight-ahead jazz with a quiet grace."
–Edward Champion, The Los Angeles Times Book Review

"After Dark is a potent and disturbing work, one that is all the more effective for the familiar aspects it presents. He reminds us that the essence of horror in the post-modern narrative is not some gothic extravagance, but the realities that await us outside our doorstep."
–-Ted Gioia, The Boston Globe

"The best thing about After Dark is its cohesive atmosphere, one of delay and suspense, as time slows down and everybody gets the creeps. If Mr. Murakami were to attempt a 24-hour epic, his would emphasize the night as James James Joyce emphasized the day."
–Benjamin Lytal, The New York Sun

"Luminous . . . After Dark brings characters together, penetrating their solitude. Here, instead of mining loneliness, the author builds a sense of interweaving destinies and blossoming relationships [in] a tightly controlled narrative, carefully constructed in both time and place . . . We stay alert to exact detail on each page, within every frame. The result is palpable and enthralling . . . Like most of the innovative writer's work, it is bound to linger in the mind for years."
--Lee Makela, The Cleveland Plain Dealer

"Strange, confusing, and incredible."
--Esquire

"Darkly entertaining."
–Publishers Weekly

"After Dark is a bittersweet novel that will satisfy the most demanding literary taste. It is a sort of neo-noir flick set in half-empty diners, dark streets and hotel rooms straight out of the paintings of Edward Hopper. It reminds us that while great pleasures make this life worth living, great danger threatens the fictitious stability of our lives . . . that the world is broad, that myths are universal--and that while we sleep, the world out there is moving in mysterious and unpredictable ways."
--Juvenal Acosta, The San Francisco Chronicle

"Disarmingly intimate, almost tactile . . . The narrative flows like a jazz ballad [in which] each character is unique in his or her loneliness, yet each possesses a capacity for momentary empathy that is both sweet and heartbreaking. Murakami's genius, on both large and small canvases, is to create worlds both utterly alien and disconcertingly familiar."
--Bill Ott, Booklist

"A seductive and gratifying intellectual and romantic adventure."
--Kirkus, starred review
Random House Audio, 9780739343067
Publication Date: May 1, 2007
About the Author
Haruki Murakami was born in Kyoto in 1949 and now lives near Tokyo. His work has been translated into thirty-eight languages. The most recent of his many honors is the Franz Kafka Prize.
or
Not Currently Available for Direct Purchase