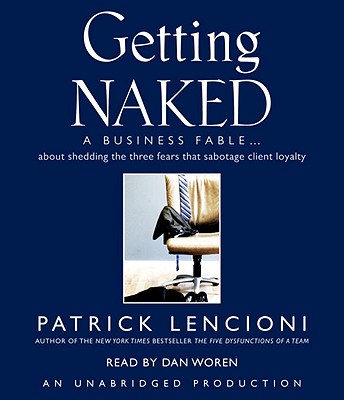 Getting Naked: A Business Fable about Shedding the Three Fears That Sabotage Client Loyalty (Compact Disc)
A Business Fable about Shedding the Three Fears That Sabotage Client Loyalty
Random House Audio Publishing Group, 9780739344224
Publication Date: February 23, 2010
* Individual store prices may vary.
or
Not Currently Available for Direct Purchase
Description
After focusing on topics ranging from teamwork and leadership to employee engagement and meetings New York Times best-selling author Patrick Lencioni has finally turned his attention toward his own craft--consulting and client service. Tapping into the simple but powerful model that his firm, The Table Group, has been built on, Lencioni presents what may be his most engaging, humorous audiobook yet. Getting Naked tells the remarkable story of a management consultant who is trying desperately to merge two firms with very different approaches to serving clients. One relies on vulnerability and complete transparency; the other focuses on proving its competence and protecting its reputation for intellectual prowess. In the process of managing the merger, the consultant is forced to learn life-changing lessons that prove to be as relevant as they are painful. As he does in his other audiobooks, Lencioni provides readers with concepts that are accessible and compelling. He explains the three fears that provoke service providers to unknowingly sabotage their ability to build trust and loyalty. And, as always, Lencioni provides a practical approach for overcoming those fears.
About the Author
Patrick Lencioni is a New York Times best-selling business author of eight books including The Five Dysfunctions of a Team and The Three Signs of a Miserable Job. To learn more about Patrick Lencioni and his other books and services please visit www.tablegroup.com.
Advertisement