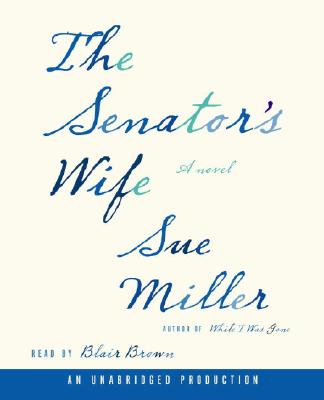 The Senator's Wife
Compact Disc

* Individual store prices may vary.
Other Editions of This Title:
Digital Audiobook (1/7/2008)
Paperback (1/6/2009)
Description
Once again Sue Miller takes us deep into the private lives of women with this mesmerizing portrait of two marriages exposed in all their shame and imperfection, and in their obdurate, unyielding love.

Meri is newly married, pregnant, and standing on the cusp of her life as a wife and mother, recognizing with some terror the gap between reality and expectation. Delia Naughton–wife of the two-term liberal senator Tom Naughton–is Meri's new neighbor in the adjacent New England town house. Delia's husband's chronic infidelity has been an open secret in Washington circles, but despite the complexity of their relationship, the bond between them remains strong. What keeps people together, even in the midst of profound betrayal? How can a journey imperiled by, and sometimes indistinguishable from, compromise and disappointment culminate in healing and grace? Delia and Meri find themselves leading strangely parallel lives, both reckoning with the contours and mysteries of marriage, one refined and abraded by years of complicated intimacy, the other barely begun.

Here are all the things for which Sue Miller has always been beloved–the complexity of experience precisely rendered, the richness of character and emotion, the superb economy of style–fused with an utterly engrossing story.
Praise For The Senator's Wife…
Praise for Sue Miller's The Senator's Wife

"Pure Miller . . . tasteful, elegant, sensuous . . . insightful, complex . . . The Senator's Wife is Miller's latest extended contemplation of marriage, and a master class in the refinement of craft." —The Boston Globe

"Complex and beautifully drawn . . . with her keen eye and precise prose, Ms. Miller expertly conveys the passage of time and the evolution of emotions, giving readers the sense of lives fully lived." —The Wall Street Journal

"Miller plays her hand in a masterly fashion." —The New York Times Book Review

"I closed The Senator's Wife and instantly wished there was someone around with whom to discuss the Jodi Picoult like ending." —USA Today


Lost in the Forest

"But more important and distinctive is the power of a style that never announces itself as 'style' and that is consonant with a nonjudgmental poise of presentation. T. S. Eliot once wondered whether Shakespeare really 'thought' anything at all: 'He was occupied with turning human actions into poetry,' Eliot decided. Something similar might be said about Miller's impartiality, her refusal to assign blame or 'explain' why things happen as they happened. Her sense of life one calls it that, inadequately is such that we are content to discover with her the powerful connections among the characters and events she imagines." —The Boston Globe

"[K]een psychological insight, her radar for emotional nuance, her visceral understanding of familial dynamics. . . . Ms. Miller's innate sympathy for her characters and her shrewd understanding of the mathematics of family life go a long way." —The New York Times

"Miller has always been adept at rendering the complexities of family life, the way even well-intentioned, decent people can't walk across a room without wounding at least one person they love." —The New York Times Book Review

"It has been said that every good novelist is also a sociologist. Well, if sociologists can be said to shed light on how people must lead their lives at a given time and place in a society, then that statement certainly applies to Sue Miller, who has been providing just that kind of illumination, book to book, since she began her career more than 25 years ago with The Good Mother." —The Washington Post Book World

"[Miller] succeeds brilliantly. . . . Miller's characters have room to breathe, to be confused and petty and clear-headed and generous, to get swept up by passion, to fall in love and have children and watch as those children grow away from them, to fall in and out of love with their spouses, to stay married or get divorced, to have sex and drink wine and dance. Miller is adept at creating believable characters of all ages, from toddlers to great-grandparents, but her specialty is the middle-aged woman caught between her responsibilities and her desires. . . . Sue Miller has proven herself a master of contemporary life." —Newsday

"Over the span of her many novels, Sue Miller has used simple, straightforward prose to plumb the irregular heart that beats deep within the relationships of men and women. Whether these relationships are made up of romantic attachments or the bonds that connect parents and children, Miller knows exactly how to corral their turbulent emotions and complex revelations into a fluid, compelling story of everyday life." —Chicago Sun-Times

"Miller is a master of the domestic drama." —The Sunday Oregonian


While I Was Gone

"Sue Miller is an Anne Tyler with edge, an Amy Tan without the sentimentality. Like Mary Gordon, she holds moral dilemmas up to the clarifying light of messy everyday reality. And like some Gail Sheehy of fiction, she tracks with authority all our difficult passages from childhood through old age. . . . Miller's prose is seamlessly composed, tailored for introspection and quiet revelation rather than show." —Newsday

"Miller's greatest asset: her ability to construct a grainy, close-focus portrait of her characters, both in relation to each other and in their interior lives." —The Boston Globe

"Miller transforms the stuff of troubled domesticity into serious entertainment for everyone." —The Chicago Tribune


The World Below

"[W]hat Miller achieves consistently is a certain luminous portrait of the life lived day to day: the choices made, the regrets suffered, the cracks in the foundation we choose to confront or avoid." —The Boston Globe

"Sue Miller's work belongs at the top of the novel of domestic realism, of the relations between men and women, of hungry generations treading one another down but taking some pleasure in the interplay. Her achievement is to have portrayed this in language that for all its incidental poetry makes us also feel that the poetry isn't what matters, that her stories are told by employing, as Wordsworth put it, 'Words / Which speak of nothing more than what we are.'" —The New York Times Book Review

"Miller herself is a historian of the human condition, writ small." —Newsday

"Miller, a veteran documentarian of contemporary domestic life in such engrossing works as The Good Mother and While I Was Gone, provides convincing, intimate glimpses into her characters' hearts." —Washington Post

"[Miller] has a keen eye for nature and ambiance. . . . Miller excels in chronicling nuances of domestic affections, half-truths, self-conscious creation of one's self and the bittersweet fiction of memory." —Chicago Tribune

"Reading a Sue Miller novel is like listening to your best friend tell a story. Over the years, she has cultivated a certain artlessness and a way with domestic details that make you feel as though you're at a kitchen table, watching your friend while she embroiders her tale and chops onions for supper. The strength of her work is its detailed realism. There are food and weather both lovingly described, dirty diapers in a toilet bowl, a cross-eyed fox stole. And the characters are as solidly a part of the earth as their surroundings." —Cleveland Plain Dealer

"Miller's strength has always been her incisive grasp of family dynamics, the moments that pass but somehow sparkle in memory like glass shards, pointed, pointing, not quite fitting with what we think we know, or quietly illuminating something we'd rather not speak of." —Detroit Free Press

Random House Audio, 9780739358511
Publication Date: January 8, 2008
About the Author
Sue Miller is the bestselling author of the novels "Lost in the Forest, The World Below, While I Was Gone, The Distinguished Guest, For Love, Family Pictures, "and "The Good Mother"; the story collection "Inventing the Abbotts;" and the memoir "The Story of My Father." She lives in Boston, Massachusetts.
or
Not Currently Available for Direct Purchase