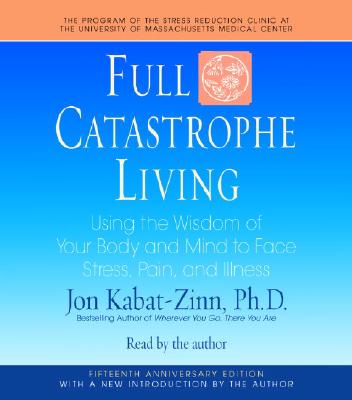 Full Catastrophe Living: Using the Wisdom of Your Body and Mind to Face Stress, Pain, and Illness (Compact Disc)
Using the Wisdom of Your Body and Mind to Face Stress, Pain, and Illness
Random House Audio Publishing Group, 9780739358580, 5pp.
Publication Date: January 15, 2008
Description
Stress. It is everywhere around us. Even worse, it gets inside us: sapping our energy, undermining our health, and making us more vulnerable to anxiety, depression, and disease. Now, based on Dr. Jon Kabat-Zinn's renowned mindfulness-based stress reduction program, this groundbreaking book shows you how to use natural, medically proven methods to soothe and heal your body, mind, and spirit. By using the practices described within, you can learn to manage chronic pain resulting from illness and/or stress related disorders...discover the roles that anger and tension play in heart disease... reduce anxiety and feelings of panic...improve overall quality of life and relationships through mindfulness meditation and mindful yoga. More timely than ever before, Full Catastrophe Living is a book for the young and the old, the well, the ill, and anyone trying to live a healthier and saner life in today's world. From the Trade Paperback edition.
About the Author
Jon Kabat-Zinn, Ph.D. is Professor of Medicine emeritus at the University of Massachusetts Medical School, where he was founding executive director of the Center for Mindfulness in Medicine, Health Care, and Society, and founder (in 1979) and former director of its world-renowned Stress Reduction Clinic. His work has contributed to a growing movement of mindfulness into mainstream institutions in our society such as medicine, health care and hospitals, schools, corporations, prisons, and professional sports. In addition to Full Catastrophe Living, Kabat-Zinn's books include Wherever You Go, There You Are and Everyday Blessings. They have been translated into over fifteen foriegn languages, including German, Japanese, Italian, Dutch, French, Spanish, Russian, Portugese, Hebrew and Korean. His series of Mindfulness Meditation Practice tapes were created to be used in conjunction with Full Catastrophe Living and Wherever You Go. Dr. Kabat-Zinn lives in Lexington, Massachussets.
Praise For Full Catastrophe Living: Using the Wisdom of Your Body and Mind to Face Stress, Pain, and Illness…
"A practical guide not only to mindfulness meditation and healing, but daily life." —Joseph Goldstein, Insight Meditation Society, author of One Dharma and coauthor of Seeking the Heart of Wisdom

"Dr. Jon Kabat-Zinn eloquently explains the power of paying attention and increasing awareness. I strongly recommend this book for everyone who wants to begin healing their life."—Dean Ornish, M.D., author of Stress, Diet, and Your Heart and Dr. Dean Ornish's Program for the Reversal of Heart Disease

"Happy 15th birthday to one of the great classics of mind/body medicine! More than any other, Full Catastrophe Living is the book that enabled Americans to discover the inner life. This book has brought peace of mind to hundreds and thousands of people and healed countless lives. This is your chance to let it heal yours." —Rachel Naomi Remen, M.D., author of Kitchen Table Wisdom and My Grandfather's Blessings

"A wonderful guidebook for those of us who choose life and healing. I hope you all make the choice and read the book." —Bernie Siegel, M.D., author of Love, Medicine, and Miracles and Peace, Love, and Healing
Advertisement