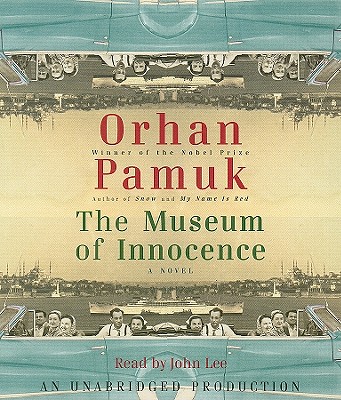 The Museum of Innocence
Compact Disc

* Individual store prices may vary.
Other Editions of This Title:
Digital Audiobook (8/14/2013)
Digital Audiobook (10/19/2009)
Paperback (10/5/2010)
Paperback, Vietnamese (1/1/2018)
Hardcover (10/20/2009)
Description
"It was the happiest moment of my life, though I didn't know it." So begins the new novel, his first since winning the Nobel Prize, from the universally acclaimed author of Snow and My Name Is Red. It is 1975, a perfect spring in Istanbul. Kemal, scion of one of the city's wealthiest families, is about to become engaged to Sibel, daughter of another prominent family, when he encounters Füsun, a beautiful shopgirl and a distant relation. Once the long-lost cousins violate the code of virginity, a rift begins to open between Kemal and the world of the Westernized Istanbul bourgeosie—a world, as he lovingly describes it, with opulent parties and clubs, society gossip, restaurant rituals, picnics, and mansions on the Bosphorus, infused with the melancholy of decay—until finally he breaks off his engagement to Sibel. But his resolve comes too late. For eight years Kemal will find excuses to visit another Istanbul, that of the impoverished backstreets where Füsun, her heart now hardened, lives with her parents, and where Kemal discovers the consolations of middle-class life at a dinner table in front of the television. His obsessive love will also take him to the demimonde of Istanbul film circles (where he promises to make Füsun a star), a scene of seedy bars, run-down cheap hotels, and small men with big dreams doomed to bitter failure. In his feckless pursuit, Kemal becomes a compulsive collector of objects that chronicle his lovelorn progress and his afflicted heart's reactions: anger and impatience, remorse and humiliation, deluded hopes of recovery, and daydreams that transform Istanbul into a cityscape of signs and specters of his beloved, from whom now he can extract only meaningful glances and stolen kisses in cars, movie houses, and shadowy corners of parks. A last change to realize his dream will come to an awful end before Kemal discovers that all he finally can possess, certainly and eternally, is the museum he has created of his collection, this map of a society's manners and mores, and of one man's broken heart.

A stirring exploration of the nature of romantic attachment and of the mysterious allure of collecting, The Museum of Innocence also plumbs the depths of an Istanbul half Western and half traditional—its emergent modernity, its vast cultural history. This is Orhan Pamuk's greatest achievement.
Praise For The Museum of Innocence…
"[An] enchanting new novel of first love painfully sustained over a lifetime....The city is on exhibit: the romantic touch of decaying wooden houses, the sturdy apartments of the nouveaux riches, postcard views of the shimmering Golden Horn, Soviet tankers on the Bosporus and a Frenchified restaurant once in favor....Part of the delight in The Museum of Innocence is in scouting out the serious games, yet giving oneself over to the charms of Pamuk's storytelling….Freely's translation captures the novelist's playful performance as well as his serious collusion with Kemal. Her melding of tones follows Pamuk's agility, to redirect our vision to the gravity of his tale....What's on show in this museum is the responsibility to write free and modern."
            - Maureen Howard, New York Times Book Review
 
"A Startling original. Every turn in the story seems fresh, disquieting, utterly unexpected...spellbindingly told....The genius of Pamuk's novel is that although it can be read as a simpel romance, it is a richly complicated work with subtle and intricate layers. Kemal's descent into love's hell takes him through every level of the social order, past countless neighborhoods of sprawling Istanbul, in a story that spans 30 years."
            - Marie Arana, The Washington Post
 
"Pamuk...is that rare thing, a creator of sophisticated, intensely literary fiction, who is also his country's bestselling writer....in part...because of his work's accessibility and his willingness to adapt conventionally popular genres, like historical and detective stories, into multilayered, character-driven novels....mesmerizing, brilliantly realized...[with] marvelous and transporting evocations of Istanbul…and fascinating insights into a society living very much on the unstable borders of contemporary life between the Islamic and Western worlds....[This] engrossing tale....deeply and compellingly explores the interplay between erotic obsession and sentimentality—and never once slips into the sentimental. There is a master at work in this book."
            - Timothy Rutten, The Los Angeles Times
  
"Pamuk looks at Europe's great tradition with a fascination and devotion that few contemporary Europeans would muster…and in doing so, he catches instantly his own—along with his country's and much of the developing world's—uneasy position between the indigenous ways they are determined to hold on to and the globalized world they long to belong to. The Museum of Innocence may be Pamuk's most intimate and nuanced exploration of these stresses yet....Pamuk unfolds a classic, spacious love story a little like a Nabakovian version of Love in the Time of Cholera [and] The Museum of Innocence develops, therefore, into something of a rich and almost-modern Age of Innocence, translated to a confused world that doesn't know quite how modern it wants to be....[N]o one has given us so unsparing and precise a sense of mock-sophisticated Istanbul society, and no writer has immersed us so passionately in a backward-looking monochrome depiction of Istanbul in its neglected traditional corners....[Pamuk] has given voice to nearly every society in the world torn between the longing to be global and to be itself....[Here he] manages to tell a very straightforward story of a dreamer in love—rendered lucid and fluent and human in Maureen Freely's translation—that is, beneath its romantic surface, strikingly exact."
            - Pico Iyer, New York Review of Books

"While this is a broadly familiar tale, it is also, in so many ways, a stunningly original work…granular and panoramic, satirical and yet grounded in reality. This is a twisted love story, engrossing and sensual in its own right. But Pamuk being Pamuk, it is so much more than that. There is something casually anthropological about Pamuk's writing. He manages to make a story with stern lessons about class conflicts and…the Eastern versus Western divide, feel both light and weighty. Pamuk is a puckish storyteller…who crafts scenes worthy of the cinema. Vignettes large and small feel vivid….Great writers have made the failed love stories of desperate, self-involved men pulsate. A master, like Pamuk, makes the story feel vital."
            Henry C. Jackson (Associated Press Writer), San Francisco Chronicle

"Pamuk's sensual, sinister tale is a brilliant panorama of Turkey's conflicted national identity—and a lacerating critique of a social elite that styles itself after the West but fails to embrace its core freedoms."
            - Vogue
 
"a world-class lesson in heartbreak and happiness....Pamuk's own presence in this wily narrative is as surreptitious as passion itself."
            - O Magazine

"pulses with the hopeful melancholy of an aching heart."
            - Entertainment Weekly
 
"Curious and demanding….The author examines Kemal's twisted devotion with impressive cunning and inventiveness; inevitably, we think of Nabokov's Humbert Humbert and his Lolita, but to Pamuk's credit, the comparison does not diminish this novel's eloquence or impact. Suggestions of a tradition-bound haute bourgeoisie unable to let go of passing traditions and values feel honestly earned, and the narrative consistently engages and surprises....Another richly women tale suffused with life and color from one of contemporary fiction's true master craftsmen."
            - Kirkus (starred review)
 
"a soaring, detailed...mausoleum of love....a masterful work."
            - Publisher's Weekly
Random House Audio, 9780739369265
Publication Date: October 20, 2009
About the Author
Orhan Pamuk won the Nobel Prize for Literature in 2006. His novel "My Name Is Red" won the 2003 IMPAC Dublin Literary Award. His work has been translated into more than fifty languages. He lives in Istanbul.
or
Not Currently Available for Direct Purchase