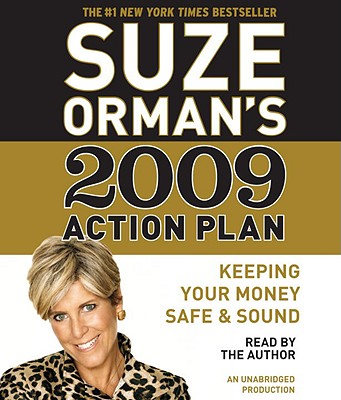 Suze Orman's 2009 Action Plan (Compact Disc)
Random House Audio, 9780739384480
Publication Date: December 30, 2008
* Individual store prices may vary.
or
Not Currently Available for Direct Purchase
Description
2009: The Year You Can't Afford to Make Any Mistakes with Your Money.

The credit crunch, the stock market freefall, the staggering toll of home foreclosures and job losses: The economic crisis that struck in 2008 has left no one untouched and everybody reeling. Seemingly overnight, the financial landscape has undergone seismic changes that suddenly have you asking all kinds of questions: Are your savings safe? Should you continue to invest in your retirement account? Should you keep your home if it's worth less than what you owe or should you sell it? How do you pay your bills if you've just been laid off?

The nation's go-to expert on financial matters, Suze Orman, believes that 2009 is a critical year for your money. There are safeguards to put in place, actions to take, costly mistakes to avoid, and even opportunities to be had, so that you are protected during the bad times and prepared to prosper when things take a turn for the better. No matter what situation you're in, you will find a plan of action and the answers to your questions about:

-Credit
-Retirement
-Savings and Spending
-Real Estate
-Paying for College
-Protecting Your Family

Suze Orman's 2009 Action Plan delivers honest, straightforward guidance—what to do, when to do it, and how to do it—as only Suze Orman can.
About the Author
Suze Orman is the author of seven consecutive" New York Times" bestsellers: "Women & Money, The 9 Steps to Financial Freedom; The Courage to Be Rich; The Road to Wealth; The Laws of Money, The Lessons of Life"; and "The Money Book for the Young, Fabulous & Broke." The host of her own national award-winning CNBC-TV show, she is a contributing editor to "O," "The Oprah Magazine," is the featured writer on Yahoo! Personal Finance with her biweekly "Money Matters" series, and is a highly sought-after public speaker worldwide. She has written, co-produced, and hosted five PBS specials based on her bestselling books, which are among the network's most successful fund-raisers ever. The 2003 special, inspired by "The Laws of Money," earned her one Emmy Award and her 2005 special, "For the Young, Fabulous & Broke" earned her another. In the same year she was inducted into the Books for Better Life Awards' Hall of Fame, in recognition of her ongoing contributions to the field of self-improvement.
Advertisement