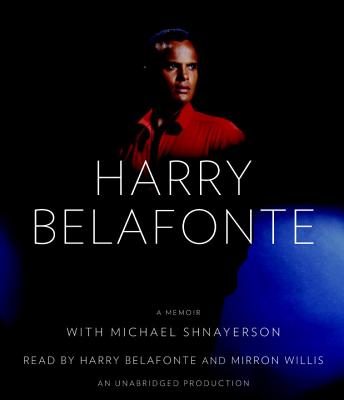 My Song
Compact Disc

* Individual store prices may vary.
Other Editions of This Title:
Digital Audiobook (10/10/2011)
Paperback (11/13/2012)
Hardcover (10/11/2011)
Paperback, Large Print (10/25/2011)
Description
Harry Belafonte is not just one of the greatest entertainers of our time; he has led one of the great American lives of the last century. Now, this extraordinary icon tells us the story of that life, giving us its full breadth, letting us share in the struggles, the tragedies, and, most of all, the inspiring triumphs.
 
Belafonte grew up, poverty-ridden, in Harlem and Jamaica. His mother was a complex woman—caring but withdrawn, eternally angry and rarely satisfied. His father was distant and physically abusive. It was not an easy life, but it instilled in young Harry the hard-nosed toughness of the city and the resilient spirit of the Caribbean lifestyle. It also gave him the drive to make good and channel his anger into actions that were positive and life-affirming. His journey led to the U.S. Navy during World War II, where he encountered an onslaught of racism but also fell in love with the woman he eventually married. After the war he moved back to Harlem, where he drifted between odd jobs until he saw his first stage play—and found the life he wanted to lead. Theater opened up a whole new world, one that was artistic and political and made him realize that not only did he have a need to express himself, he had a lot to express.
 
He began as an actor—and has always thought of himself as such—but was quickly spotted in a musical, began a tentative nightclub career, and soon was on a meteoric rise to become one of the world's most popular singers. Belafonte was never content to simply be an entertainer, however. Even at enormous personal cost, he could not shy away from activism. At first it was a question of personal dignity: breaking down racial barriers that had never been broken before, achieving an enduring popularity with both white and black audiences. Then his activism broadened to a lifelong, passionate involvement at the heart of the civil rights movement and countless other political and social causes. The sections on the rise of the civil rights movement are perhaps the most moving in the book: his close friendship with Martin Luther King, Jr.; his role as a conduit between Dr. King and the Kennedys; his up-close involvement with the demonstrations and awareness of the hatred and potential violence around him; his devastation at Dr. King's death and his continuing fight for what he believes is right.
 
But My Song is far more than the history of a movement. It is a very personal look at the people in that movement and the world in which Belafonte has long moved. He has befriended many beloved and important figures in both entertainment and politics—Paul Robeson, Eleanor Roosevelt, Sidney Poitier, John F. Kennedy, Marlon Brando, Robert Kennedy, Nelson Mandela, Fidel Castro, Tony Bennett, Bill Clinton—and writes about them with the same exceptional candor with which he reveals himself on every page. This is a book that pulls no punches, and turns both a loving and critical eye on our country's cultural past.
 
As both an artist and an activist, Belafonte has touched countless lives. With My Song, he has found yet another way to entertain and inspire us. It is an electrifying memoir from a remarkable man.
Praise For My Song…
"An honest, in many ways important and genuinely revelatory autobiography. . . . My Song reveals, Belafonte was more than celebrity eye candy, burnishing his image with a little politically correct politicking. He not only talked the talk, but walked the walk. . . . My Song is more than fitting denouement for a life well lived." —Curt Schleier, Seattle Times

"In My Song, a brave and spellbinding memoir written with Vanity Fair contributing editor Michael Shnayerson, Belafonte tells a sweeping story . . . riveting . . . In these days of national and global uncertainty, with the numbers of poor steadily rising, there are lessons aplenty in the life of Harry Belafonte, as told in this surprising and revelatory book." —Wil Haygood, Washington Post

" . . . engrossing autobiographical account of a life devoted in equal parts to entertainment and social causes. My Song is rich with vivid scenes of Belafonte working as an adviser, mediator, fundraiser and implementer with such players as John and Robert Kennedy and King." —Tom Nolan, San Francisco Chronicle
 
"Here is a gorgeous account of the large life of a Harlem boy . . . Scenes of extravagant waste, scenes of righteous anger—rich contradictions abound—with little attempt to explain them away, a mark of the honest autobiographer." —Garrison Keillor, New York Times Book Review
 
"Absorbing . . ." —Joshua Jelly-Schapiro, New York
 
"To read Harry Belafonte's new memoir, My Song, is to discover a man who has packed enough life for 10 people into 84 years." —"Morning Edition," NPR
 
"Somewhere amid the accounts of when he became the first artist to sell a million copies of an album, the first black leading actor to romance a white leading actress in a major Hollywood film, and the man who was asked to help pick out the clothes that Martin Luther King Jr. would be buried in, you realize just how extraordinary Harry Belafonte's life has been. If Belafonte had simply pursued one strand of that life - the immensely popular singer, the Tony Award-winning actor, the powerful political and social activist - it would have made fascinating material for a book. That he managed to cram all three into his 84 years makes My Song, his captivating memoir written with Michael Shnayerson, not only a sometimes exhausting chronicle of Belafonte's own story but an intriguing look at US history from the late '40s to the present. . . . One of the book's triumphs involves the way Belafonte and Shnayerson manage to capture Belafonte's distinctive voice . . . You can almost hear him narrate the story in his stately rasp." —Sarah Rodman, The Boston Globe
 
"Bracingly opinionated autobiography from an American original, still provocative in his ninth decade." —Kirkus (starred)
Random House Audio Publishing Group, 9780739384602, 16pp.
Publication Date: October 11, 2011
About the Author
Harry Belafonte's 1956 album "Calypso" made him the first artist in history to sell more than one million LPs. He has won both a Tony Award and an Emmy, and he was awarded the National Medal of Arts by President Clinton. He has served as a UNICEF Goodwill Ambassador and is the recipient of Kennedy Center Honors for excellence in the performing arts. He currently resides in New York City with his wife, Pamela.

Michael Shnayerson, a longtime contributing editor to "Vanity Fair," is the author of "Irwin Shaw;""The Car That Could;""The Killers Within, " coauthored with Mark J. Plotkin, and "Coal River, " which recounted the efforts of Appalachian lawyers and grassroots groups to stop the devastating practice of mountaintop coal removal in southern West Virginia. Shnayerson's passion for those environmental activists was one reason Harry Belafonte chose him to collaborate on his autobiography. Shnayerson lives in Bridgehampton, New York, with his daughter, Jenna. "From the Hardcover edition."
or
Not Currently Available for Direct Purchase