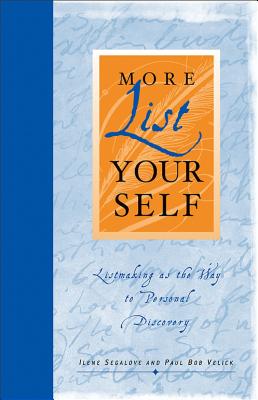 More List Your Self
Listmaking as the Way to Personal Discovery
Hardcover

* Individual store prices may vary.
Description
First published in 1996, the original List Your Self has sold over 130,000 copies.The creative team of Segalove and Velick are back with More List Your Self, the latest title in the popular list book series. Like the original book, More List Your Self offers a wild and probing look at your personal lifestyle and history. Through listmaking, readers are invited to examine their rituals and habits, ponder their values and dreams, and explore their relationships with technology, family, money, and other facets of modern existence. This fresh collection of "list questions" promises an even greater depth of self-discovery.
For newcomers to the List Your Self books, More List Your Self is an easy and fun-filled guide for taking a personal inventory of life, love, and psyche. For the thousands who have relished other titles in the List Your Self series, this new volume issues an irresistible invitation. For both rookie and veteran listmakers, More List Your Self offers revelation, wonder, and profound self-awareness. Readers will be amazed at the things they will discover about themselves and their world through this unique journaling process.
Andrews McMeel Publishing, 9780740722257, 304pp.
Publication Date: March 1, 2002
About the Author
Ilene Segalove of Santa Barbara, California, is a book editor, writing coach, and sometime multimedia artist. She is the author of "List Your Self," "40 Days and 40 Nights," "Unwritten Letters," "Risk Your Self," "The Write Mood," and a number of other prompted journals designed to increase self-awareness and provide personal insight and creativity.

Ilene Segalove and Paul Bob Velick are the coauthors of "List Your Self, List Your Creative Self, List Your Self for Parents," and "Risk Your Self." Ilene is the author of "Unwritten Letters" and "The Write Mood" and coauthor of "List Your Self for Pregnancy" and "List Your Self for Kids." Paul Bob is a painter, and the creative founder of Design InMind. They both live in California.
or
Not Currently Available for Direct Purchase