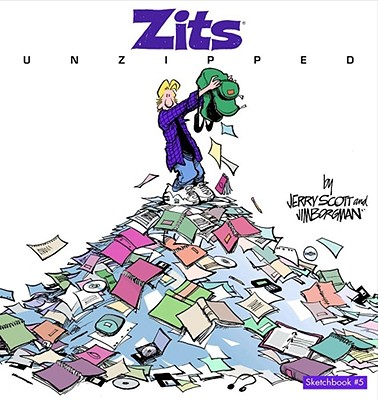 Zits Unzipped (Paperback)
Sketchbook #5
Andrews McMeel Publishing, 9780740723223, 128pp.
Publication Date: April 1, 2002
* Individual store prices may vary.
Description
The comic strip Zits has become one of the most popular strips on the comics pages today. The humorous daily life of parents Connie and Walt Duncan and the teenager they own and operate, Jeremy, are presented as an open book for all to read in Zits Unzipped. In this collection, creators Jerry Scott and Jim Borgman chronicle the life of 15-year-old Jeremy Duncan as if there were a camera following his every confused adolescent move. He has to be dragged out of bed at noon during summer vacation. He agonizes over and dissects every syllable of a cryptic exchange he's just had with his girlfriend, Sara. He almost bursts with the questions, concerns, and insecurities of teenagerhood, yet fends off every attempt by his mom to get him to talk with a standard "I dunno." With its perfect blend of teenage reality and clever humor, Zits Unzipped delivers laughs for Zits' faithful readers and new fans alike.
About the Author
Zits writer Jerry Scott also is co-creator of the award-winning strip Baby Blues. He won the National Cartoonists Society's Reuben Award in 2001 for his work on both strips. He lives in Malibu, Calif. Zits artist Jim Borgman won the 1991 Pulitzer Prize for editorial cartooning and the Reuben Award in 1993. Jim lives in Cincinnati, Ohio, where he is the editorial cartoonist for the Cincinnati Enquirer.
or
Not Currently Available for Direct Purchase