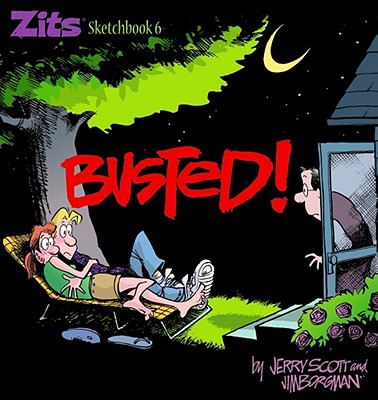 Busted!
Zits Sketchbook #6
Paperback

* Individual store prices may vary.
Description
"Zits has been a smash since it was introduced in 1997. It's the story of Jeremy, a typical 15-year-old who rolls his eyes and sighs at his baby boomer parents but also loves and needs them. You may not laugh when your teenager acts that way toward you, but you'll laugh at Zits."Mention the comic strip Zits to teenagers or their parents and they'll eagerly launch into a long list of their favorite stories and strips that made it to the refrigerator door, making Zits the most effective form of communication between parents and their teens since the Post-it note. It's a phenomenon that takes place daily all over the world as teens and their parents thrust the latest exploits of Jeremy and his parents in front of each other and say, "This is so you!"
This latest collection contains the story of Jeremy and Hector's surefire moneymaking summer koi pond digging business, the e-mail breakup between Sara and Jeremy, and over 200 more of this "essence of adolescence" comic strip. Busted! marks the eighth collection of the strip, which now appears in more than 1,000 newspapers worldwide.
Andrews McMeel Publishing, 9780740726750, 128pp.
Publication Date: September 2, 2002
About the Author
Jerry Scott is the co-creator of the award-winning comic strip Zits. He lives in central coastal California. Jerry's work on Baby Blues has delighted fans and wowed the cartooning world since he launched the strip with Rick Kirkman in 1990.
 

Co-creator Jim Borgman and his wife are the proud parents of five children. He has also won a Reuben Award and a Pulitzer Prize. Both he and Jerry have LOTS of experience with teenagers.
or
Not Currently Available for Direct Purchase