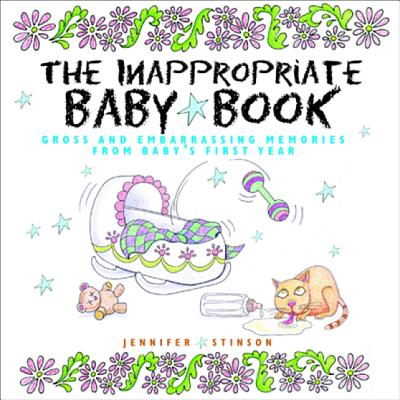 The Inappropriate Baby Book
Gross and Embarrassing Memories from Baby's First Year
Hardcover

* Individual store prices may vary.
Description
Any parent who's been through the rigors of an infant invasion knows that the real poop, er, scoop, rarely gets recorded in those precious little keepsake books. After all, those books don't cover all the really gross and fascinating stuff that makes parents laugh, scream, and scratch their heads. The Inappropriate Baby Book, however, has the good stuff covered. A real baby book for real parents, The Inappropriate Baby Book offers a unique and hysterical way to commemorate those decidedly non-Kodak moments that compose the better part of the newborn experience. Herein, you'll find room to record such facts as:You were introduced to a rectal thermometer on this day: _______.The first person you peed on was _______.Your mom was embarrassed by breast leakage in the following places: _________.Your first poop happened on this day: _______, and was this color: _________.Now, that's the kind of information that should not be lost to posterity!Sure, babies are cute, but they are also stinky, sticky, soggy, and otherwise inappropriate. So don't sugarcoat the story-let The Inappropriate Baby Book help you tell it like it really is.The book includes an envelope affixed to the last page so that an inappropriate memento can be saved forever. (Or at least until the little angel's prom night!)
Andrews McMeel Publishing, 9780740727238, 32pp.
Publication Date: September 2, 2002
About the Author
Growing up in Alaska, Jennifer Stinson passed many cold, dark, winter days playing with imaginary friends, making up dance routines, and creating inappropriate illustrations. She created the original "Inappropriate Baby Book" for a pregnant friend. Friends and even strangers asked to buy copies for themselves, and soon a real bouncing baby book was born. She currently lives in Los Angeles with her husband, dog, and cat.