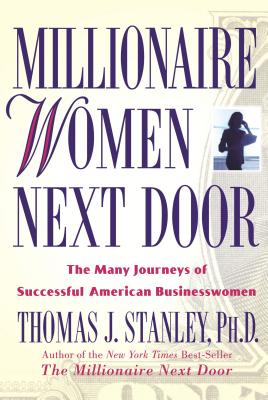 Millionaire Women Next Door
The Many Journeys of Successful American Businesswomen
Hardcover

* Individual store prices may vary.
Description
"Most Americans are not free. They are chained to their paychecks............The women profiled herein will not tolerate such an existence. They are a different breed. They are free. They are cultivators of wealth and satisfied with life." Dr. Thomas J. Stanley first swept aside the mythical magic curtain of wealth with The Millionaire Next Door, revealing just who and how common the truly wealthy were in this country as well as the characteristics and habits that made them so. With Millionaire Women Next Door, he now focuses on one of the least understood but increasingly rich demographics. "Why write another book that profiles millionaires?" Stanley asks. "The vast majority of the millionaire respondents (92 percent) in The Millionaire Next Door were men............ I felt that it was indeed time for successful businesswomen of the self-made variety to be heard." And heard they are in this book that is every bit as informative and inspirational as the author's earlier works. Stanley's thoroughly researched findings and conclusions will fascinate readers everywhere. They'll definitely come away more knowledgeable and greatly inspired by women who have found the key to riches.
Andrews McMeel Publishing, 9780740745324, 320pp.
Publication Date: May 1, 2004
About the Author
Dr. Thomas J. Stanley began studying the affluent in 1973. His coauthored New York Times best-seller, The Millionaire Next Door, was released in 1996, and has sold over 2,500,000 copies worldwide. Thomas followed his first book with Marketing to the Affluent, ranked among the ten outstanding business books by the editors of Best of Business Quarterly. His second New York Times best-seller, The Millionaire Mind, explored America s financial elite and how they became so when it came out in 1999. The author, who lives in Atlanta, holds a doctorate of business administration from the University of Georgia in Athens and was formerly a professor of marketing at Georgia State University."
or
Not Currently Available for Direct Purchase