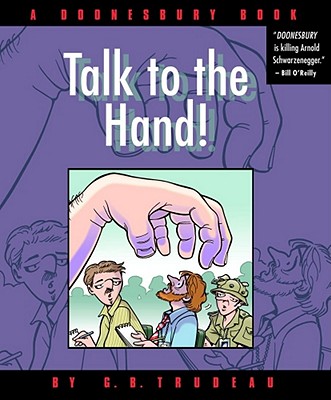 Talk to the Hand
A Doonesbury Book
Paperback

* Individual store prices may vary.
Description
Trudeau ranks as] one of the foremost sociopolitical satirists of recent decades." While some in the Doonesbury universe seek office, others serve. Alex and her Seattle co-hordes devote their young, restless, and body-pierced Deaniac energy to hooking up "flash art" with politics. Half a world away in Iraq, a major bad boy from stateside devotes himself to liberating the city of Al Amok, ruling with a steady hand, a full glass, a devoted Chinese handler, and an economy based on looting. As fate would have it, B.D. finds himself heading upriver on an apocalyptic mission to terminate Al Duke with extreme prejudice, a story line so made-for-TV that B.D. feels compelled to bang out the screenplay on his laptop in real time. Fortunately for the man known to Honey as "sir," the media red-lights the hit, though car bombers quickly pick up the option and put the project back in play. In the homeland, a wartime president has the answer to almost all the questions ("9-11") but tries to shelve the still incomplete story of his own National Guard duty back in the daze. Mark and Zonk join the war against trash politics by offering a $10,000 reward for any witness who can collaborate the flightsuit-in-chief's account, but their efforts, alas, come to naught. Yes, it's a divided nation. On the west coast sexual assault charges accompany a rise to power, while back east they mandate a fall: Walden College's acting coach, Boopstein, lets accusations of way-personal fouls force her football team off the field. Sex parties for recruits? "Who knew we were that competitive?" marvels President King, ending Boopsie's gridiron apprenticeship with two little words: "You're fired.
Andrews McMeel Publishing, 9780740746710, 152pp.
Publication Date: November 1, 2004
About the Author
G. B. Trudeau has been drawing his Pulitzer Prize-winning comic strip for more than forty years. In addition to cartooning, Trudeau has worked in theater, film, and television. He also has been a contributing columnist for the"New York Times "op-ed page and later an essayist for "Time "magazine. He is a fellow of the American Academy of Arts & Sciences. He lives in New York City with his wife, Jane Pauley. They have three grown children.

Trudeau maintains a vivid online presence at www.doonesbury.com and offers deployed troops a forum via his milblog The Sandbox.

Online:

www.doonesbury.com"
or
Not Currently Available for Direct Purchase