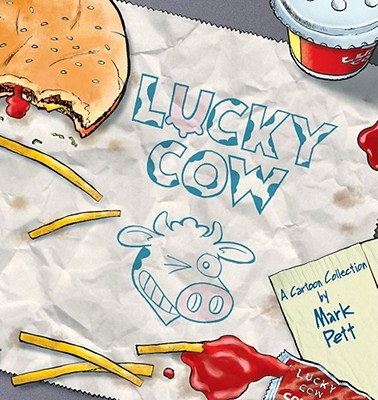 Lucky Cow
Paperback

* Individual store prices may vary.
Description
"Sacred cows make the best hamburger." --Mark Twain
Virtually every American, regardless of social status, eats fast food. Cartoonist Mark Pett's "Lucky Cow" strip embodies the spirit of America's love-hate affair with fast-food joints and the traits they have in common:
* High turnover: Two Lucky Cow employees argue over who has seniority; the one who was hired at 9:30 that morning eventually wins.
* Uniformity: A Lucky Cow employee boasts that a customer can visit any of the restaurant's franchises and they are all the same--right down to the lackluster customer service.
* Cleanliness (or lack of it): People's shoes adhere to the sticky floors, and an employee's skin absorbs so much of the restaurant's grease that water rolls right off it.
* Food quality: The response to a customer's query about the Lucky Cluck Chicken Nuggets being organic is met with, "Well, they're made from organs."
To help ensure that "Lucky Cow" would feel authentic, cartoonist Mark Pett worked at McDonald's for a month, experiencing fast-food "culture" for himself and interviewing his coworkers about their lives in the business. So it really is "funny because it's true.
Andrews McMeel Publishing, 9780740750076, 128pp.
Publication Date: April 1, 2005
About the Author
Cartoonist Mark Pett's varied and worldly experiences include teaching English and "skewering Czech political figures" as an editorial cartoonist in Prague; teaching sixth grade in rural Mississippi (a stint that later inspired his "Mr. Lowe" strip); and working as a freelance cartoonist. In 2003, high school art students in Indianola, Miss., worked with Mark to turn a "Lucky Cow" strip into the World's Largest Comic Strip (as certified by Guinness). Mark now lives in the Mississippi Delta with his wife and their dogs.
or
Not Currently Available for Direct Purchase