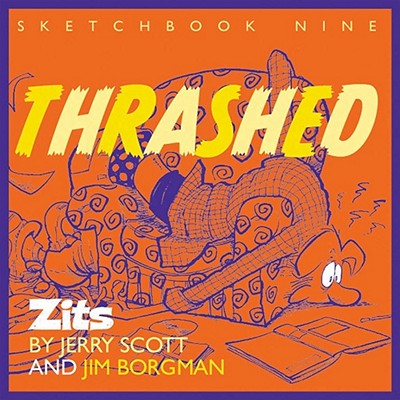 Thrashed
Zits Sketchbook No. 9
Paperback

* Individual store prices may vary.
Description
"Bottom line: Zits rocks."It's incredible to think that Zits was only launched in syndication in the summer of 1997. Since then, the strip's leading teenager, Jeremy Duncan, and his mom, dad, and assorted friends have become a part of the American fabric and, more important, a part of our own families. Who else but cocreators Jerry Scott and Jim Borgman could so quickly work this magic through the more than 1,200 newspapers that now carry Zits worldwide?
Now comes Thrashed, the 9th collection of this incredibly popular strip. All the usual suspects are here: Jeremy; his friends Hector, Sarah, and Pierce; and Jeremy's long-suffering mom and dad. The crew find themselves wrapped up in all the angst and anxiety that life can muster, from keeping the gas tank above "E" to understanding the meaning of life. Through it all, Zits maintains its focus on the adventurous-if-sometimes-pockmarked journey that teens take toward adulthood.
This Zits collection of the past year's daily and Sunday strips is perfect for both teenagers and those who share residences with them, or ever did. Its warm and sympathetic tone brings humor and insight, even though the terrain is often rocky.
Andrews McMeel Publishing, 9780740751172, 128pp.
Publication Date: May 1, 2005
About the Author
Jerry Scott is the co-creator of the award-winning comic strip Zits. He lives in central coastal California. Jerry's work on Baby Blues has delighted fans and wowed the cartooning world since he launched the strip with Rick Kirkman in 1990.
 

Co-creator Jim Borgman and his wife are the proud parents of five children. He has also won a Reuben Award and a Pulitzer Prize. Both he and Jerry have LOTS of experience with teenagers.
or
Not Currently Available for Direct Purchase