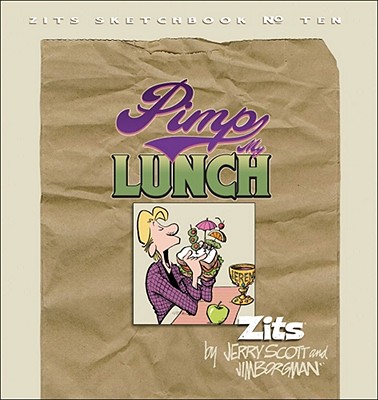 Pimp My Lunch
Zits Sketchbook No.10
Paperback

* Individual store prices may vary.
Description
"You must have a camera in my house!" That's the comment Jerry and Jim get most often from readers of their comic strip. And it's probably because Zits is the best depiction of life with a teenager since, well, ever!Pimp My Lunch: Zits Sketchbook No. 10 Zits chronicles the daily lives of a teen in a way that's not done in the popular media-with respect. "Having teenagers in the house is like having a front-row seat to one of life's great passages," says Jim Borgman. "Zits tries to respect that period by taking a sympathetic view of all the players involved-the parents, as well as the kids."

We like to think of Zits as the antidote to all of the bad stuff you read about teenagers today," adds Jerry Scott. "Many people believe that modern adolescence is all about gangs, guns, drugs" etc. Zits gives a different view of the teenage experience "where, for most kids, relationships, friendships, school, and sports are the stuff of daily life.

Zits levels the playing field and often causes (gasp!) communication to occur between kids and their parents. Appearing in over 1,200 newspapers worldwide, this enormously popular comic strip has been a staple since it was first syndicated in 1997.
Andrews McMeel Publishing, 9780740754432, 128pp.
Publication Date: October 1, 2005
About the Author
Co-creator Jim Borgman and his wife are the proud parents of five children. He has also won a Reuben Award and a Pulitzer Prize. Both he and Jerry have LOTS of experience with teenagers.

Jerry Scott is the co-creator of the award-winning comic strip Zits. He lives in central coastal California. Jerry's work on Baby Blues has delighted fans and wowed the cartooning world since he launched the strip with Rick Kirkman in 1990.