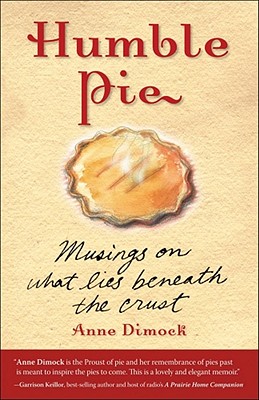 Humble Pie
Musings on What Lies Beneath the Crust
Paperback

* Individual store prices may vary.
Description
In America, pie is a food--and a concept--that carries unusual resonance. In Humble Pie, Anne Dimock offers a delightful combination of memoir, pie quotes, inspiration, recipes, travel writing, and assorted philosophical, cultural, and culinary musings on this powerful yet humble dessert.

Anne Dimock grew up in a household where, she notes, "A dearth of good pie was a hardship I never encountered, never knew must be borne up by most folk." When she realized that the decline of the American pie civilization might be a harbinger of even deeper cultural problems, Anne became a woman on a mission to save pie from extinction.

Dimock shares her thoughts on the Zen of making pie crust, the politics of pie, judging a man's character according to his pie protocol, state fair pie competitions, the kinship between pie and baseball, and the search for edible pie at roadside diners.

Folksy and full of humor, Humble Pie is more than just an evocative journey through a life lived in pie. It is a culinary manifesto for a pie renaissance, inviting readers to take up their rolling pins and revive an endangered slice of American culture. Dimock advises us all to "Roll back the apprehension, the doubt, and enter the childlike state of grace where all things are possible and anything lost can be found again. The pie you seek resides not only in memory and imagination--your next piece of pie begins right here."
Andrews McMeel Publishing, 9780740754654, 176pp.
Publication Date: September 1, 2005
About the Author
 Anne Dimock writes and makes pies from her home in Afton, Minn. A creative writer working in prose, poetry, music, drama, and playwriting, Anne began the series that evolved into Humble Pie for the Afton Paper, where she was a monthly contributor. She has received awards, honors, fellowships, and residencies for her narrative nonfiction from the Loft Literary Center, Author's Venue, Tiny Lights, Ragdale Foundation, and the Minnesota Arts Board. In addition to her stewardship of the next generation of pie makers, Anne is a sought-after writer and speaker for women's cancer support audiences.
or
Not Currently Available for Direct Purchase