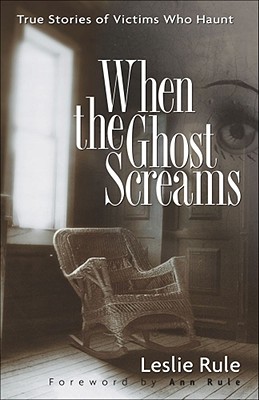 When the Ghost Screams
True Stories of Victims Who Haunt
Paperback

* Individual store prices may vary.
Description
I do not know or pretend to know what happens when we die. Still, I hear the ghost scream. I hear the screaming and am compelled to write the stories of those whose lives were snatched away. They are the murder victims, the ones who roam restlessly. They are the headliners of this book." --Leslie Rule

Hauntings--the word conjures up immediate and insatiable curiosity. Paranormal author Leslie Rule explores a new twist on this strange phenomenon when she explores brutal deaths--and subsequent hauntings--all over America in When the Ghost Screams. No sector of the country is left untouched by these mystical happenings. The Midwest, Northeast, Southwest, and, of course, Salem, Massachusetts (to which the author has her own bizarre connection), all have unique and gruesome cases of their own ghostly incidents.

Furthermore, Leslie's hometown of Seattle, Wash., is rumored to be haunted and has a violent history of its own that is explored. Prominent theory suggests that whether homicide or accidental, a violent death may cause the soul to linger behind on earth. The author's own research leads her to believe unsolved violent deaths may be the cause of the most-observed paranormal activity. Leslie has visited each site and interviewed reliable witnesses who have actually encountered ghosts.

Accompanied by the author's own dramatic black-and-white photographs, When the Ghost Screams also introduces sidebar articles on notorious crimes and trials featuring ghosts. Best-selling crime author Ann Rule writes the foreword.
Andrews McMeel Publishing, 9780740761751, 240pp.
Publication Date: August 1, 2006
About the Author
Leslie Rule is a professional photographer and the author of seven books with paranormal themes. She has also written dozens of articles for national magazines, including "Reader's Digest." The daughter of best-selling true-crime author Ann Rule, Leslie grew up in a haunted house where her lifelong fascination with the paranormal began. She lives in the Seattle, Washington, area.

Online:

www.ghostygirl.com
or
Not Currently Available for Direct Purchase