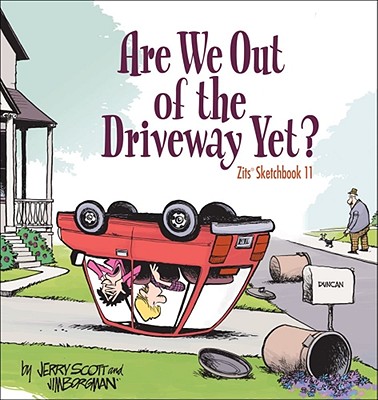 Are We Out of the Driveway Yet? (Paperback)
Zits Sketchbook Number 11
Andrews McMeel Publishing, 9780740761997, 128pp.
Publication Date: September 1, 2006
* Individual store prices may vary.
Description
Appearing in nearly 1,400 newspapers today, Zits has been a runaway success on the funny pages since its July 1997 debut. Creators Jerry Scott and Jim Borgman have won praise from fans and fellow cartoonists alike for their gently accurate portrayal of the angst, concerns, and questions that arrive during adolescence.

Creators Scott and Borgman understand the plight and subtle hilarity of being a teenager and parenting a teenager, which is why in 1998 and 1999, Zits won the Best Newspaper Comic Strip Award by the National Cartoonists Society, and the Max and Moritz Award for Best International Comic Strip in 2000. Zits strikes a universal nerve.

Zits is one of only 18 comic strips throughout history to top the thousand-newspaper mark. It appears in nearly 1,400 newspapers across the country and around the world, and is beloved by fans and fellow cartoonists alike. Zits brilliantly confronts issues affecting teens and their families, providing humor and perspective to everyone.

This Zits collection, with strips that appeared in print from April 2005 to February 2006, delivers the strip's usual mix of knowing humor and insight.
About the Author
Jerry Scott is the co-creator of the award-winning comic strip Zits. He lives in central coastal California. Jerry's work on Baby Blues has delighted fans and wowed the cartooning world since he launched the strip with Rick Kirkman in 1990.
 

Co-creator Jim Borgman and his wife are the proud parents of five children. He has also won a Reuben Award and a Pulitzer Prize. Both he and Jerry have LOTS of experience with teenagers.