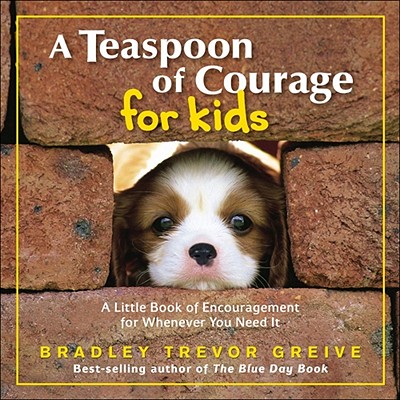 A Teaspoon of Courage for Kids
A Little Book of Encouragement for Whenever You Need It
Hardcover

* Individual store prices may vary.
Description
The world can be a scary place. But if you believe in yourself and carry with you just a teaspoon of courage, nothing will stand in your way." --Bradley Trevor Greive, from A Teaspoon of Courage for Kids: A Little Book of Encouragement for Whenever You Need It

New York Times best-selling author Bradley Trevor Greive pens the perfect pick-me-up for any child beleaguered by bullies, enfeebled by exams, or traumatized by toothaches.

Aimed at timid tots who could use a little sugarcoated courage to face tough and intimidating times, A Teaspoon of Courage for Kids offers a humorously warm and courageously supportive story line for those days when your child would rather crawl back under the covers than face up to a bully or take that dreaded test.

Captivating black-and-white animal photographs illustrate the book throughout and are the ideal accompaniment to Bradley Trevor Greive's emboldening narrative of practical tips for courageous living. 
Andrews McMeel Publishing, 9780740769498, 48pp.
Publication Date: October 1, 2007
About the Author
 Since the debut of his international bestseller The Blue Day Book, Bradley Trevor Greive has become a household name in more than 115 countries. A former Australian paratrooper, BTG left the army to pursue more creative misadventures. He has been bitten by wild monkeys and rabid bats and was accepted into Russia's cosmonaut training program--though those incidents were, by and large, unrelated. BTG spends most of his time in a tiny Tasmanian hamlet.