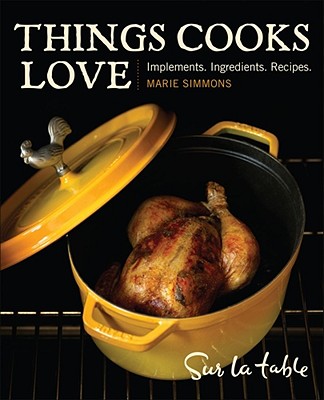 Things Cooks Love (Hardcover)
Implements, Ingredients, Recipes
Andrews McMeel Publishing, 9780740769764, 342pp.
Publication Date: April 1, 2008
Description
Things Cooks Love is a true celebration of food--more than 300 pages packed with wonderful recipes from around the world plus tips, techniques and in-depth looks at ingredients, tools, cookware and more. From selecting the perfect chef's knife to preparing Cornish hens al mattone, if you love to cook, this book will become the cornerstone of your global kitchen. A sampling of recipes you'll find in the book: Pizza with Radicchio, Pears, Gorgonzola, and Walnuts, Chicken, Shrimp and Chorizo Paella, Lamb Tagine with Artichoke Hearts, Dried Apricots and Preserved Lemons, and many, many more. Highlights include:
Equipping your Kitchen: Cooks know having fun in the kitchen depends on having the right tool for every task. Things Cooks Love opens with comprehensive lists of basic cookware and tools. It's an ideal reference for equipping your kitchen, expanding your collection or simply learning more about the tools you already have. The Global Kitchen: An ultimate wish list for the passionate cook, Things Cooks Love helps take your kitchen to a new level of global sophistication. You'll find comprehensive looks at the implements of global cuisines, detailed lists of essentials you'll want in the pantry for a culinary tour, plus delicious recipes to put it all together. Recipes, Tips and Techniques: Things Cooks Love is packed with invaluable recipes and wisdom to help make cooking easier and more fun. From the best way to peel a tomato or clarify butter to inspirational quotes and advice from trusted experts, discover great ways to hone your skills and get more enjoyment out of your time in the kitchen.
About the Author
Sur La Table is the trusted authority when it comes to all things cooking related. Sur La Table entices aficionados and curious beginners alike with its amazing selection of cookware, bakeware, tools, cookbooks, and cooking school programs designed to make any cook's life easier. They have coauthored nine cookbooks including" The Art and Soul of Baking" (2008), which received the 2009 IACP Cookbook Award for Baking, was chosen by "Gourmet" magazine as a book club selection, and was nominated for 2009 baking book of the year by the James Beard Foundation." Baking Kids Love" (2009) was also nominated for a 2010 IACP Cookbook Award for Kids/Family Cookbooks. The original store and headquarters are in Seattle, Washington.

Marie Simmons is an award winning author, popular cooking teacher, and established food writer. Her recipes and articles have appeared in dozens of magazines, including "Food & Wine, Cooking Light and Eating Well." For more than fifteen years she wrote a monthly column for "Bon Appetit" magazine and a weekly column for the Los Angeles Times Syndicate. She currently writes a bimonthly column, "Simmons Says," for the "Contra Costa Times." Marie has written eighteen cookbooks, including two James Beard award winners and a Julia Child award winner. She has taught classes at cooking schools nationwide, and she has made numerous television and radio appearances. Marie has also served as the culinary programs manager at COPIA, the American Center for Wine, Food, and the Arts. She lives in the Bay Area.

Marie Simmons is an award-winning author of eighteen cookbooks, popular cooking teacher, and established food writer. Her work has appeared in "Food & Wine, Cooking Light," and "Eating Well," and she has written a fifteen-year monthly column in "Bon Appetit" and articles for the Los Angeles Times Syndicate. Marie has won two James Beard awards and a Julie Child award. She lives in the Bay Area.
Advertisement