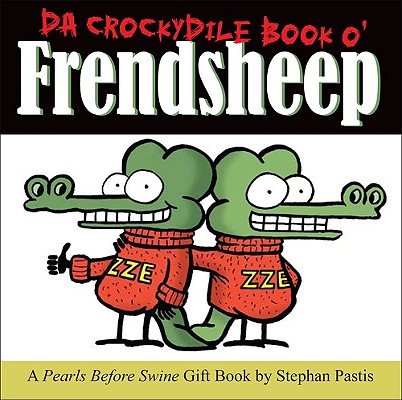 Da Crockydile Book o' Frendsheep (Hardcover)
A Pearls Before Swine Gift Book
Andrews McMeel Publishing, 9780740776274, 88pp.
Publication Date: September 1, 2008
* Individual store prices may vary.
Description
Pearls is the hottest comic in the newspaper business." -Raleigh News and Observer

As the first Pearls Before Swine gift book, this "book of frendsheep" conveys the unusual brand of camaraderie shared by the not-really-so-cold-blooded crocs.

Stephan Pastis's crockydiles say it best in their introduction to this sly tribute to friends:

Someone juss says, 'You guys sooo populars. Do geeft book.' And we is like, 'OKay. Whatevers. Just pays us monees.'

Den dey is say, 'Make book about frensheep.' And we is like, 'But we ees hate evrybodies.' ANd dey is go, 'But dat make most monees.' So we is like, 'Okay. We expert.'"

And experts they are, as they show in such an endearing expression of care as, "If you is have a beeg butt, frend sometime honesst and say, 'you have beeg butt.'"

Named Best Comic Strip of the Year by the National Cartoonists Society in 2004 and 2007, Pearls Before Swine has a devoted fan following of crockydiles and humans alike.
About the Author
Stephan Pastis is an attorney turned cartoonist. A graduate of the University of California, Berkeley, and the UCLA School of Law, he worked as a lawyer before trying his hand at cartooning. Pastis lives in the Bay Area with his wife and two children.
or
Not Currently Available for Direct Purchase