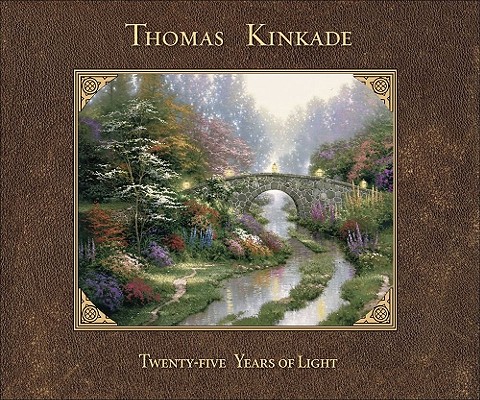 Thomas Kinkade (Hardcover)
25 Years of Light
Andrews McMeel Publishing, 9780740777035, 180pp.
Publication Date: October 21, 2008
* Individual store prices may vary.
Description
What I paint touches on foundational life values. Home, family, peacefulness. And one of the messages I try to constantly get across is slow it down and enjoy every moment." --Thomas Kinkade Thomas Kinkade sold more canvases than any other painter in history-more than Picasso, Rembrandt, Gauguin, Monet, Manet, Renoir, and Van Gogh combined. Thomas Kinkade, the celebrated Painter of Light, is the most widely collected artist in the world. His tranquil, light-infused paintings affirm the basic values of family, home, faith in God, and the beauty of nature. To commemorate the 25th anniversary of Thomas Kinkade's first published work, Thomas Kinkade: 25 Years collects more than 150 of his most beloved paintings, personal mementos, and unpublished artworks to create a stunning, lavishly produced retrospective of his unprecedented career. Inside the book's pages, Thomas Kinkade's luminous images of lighthouses and seascapes mingle with his magnificent landscapes, quaint villages, and inviting front porches to illustrate a story of personal and professional growth. Each chapter begins with an introduction chronicling a milestone in Thomas Kinkade's life and artistic development, followed by beautiful, full-color reproductions of some of his favorite paintings. Exclusive photographs, family mementos, and never-before-seen unpublished artworks document Thom's life like a personal scrapbook, from childhood through his formative years as a student, to his present status as America's most beloved artist. No other book has given his legions of fans such an up close and personal look at his life. Thomas Kinkade received numerous accolades for his works on and off the canvas, including multiple National Association of Limited Edition Dealers (NALED) awards for Artist of the Year, Graphic Artist of the Year, and nine awards for Lithograph of the Year. NALED also heralded Thomas Kinkade as the Most Award Winning Artist in the Past 25 Years. He commemorated a number of important milestones in American heritage, including the Salt Lake City 2002 Olympic Winter Games, the 2002 World Series, and Disneyland's 50th anniversary. He was also involved in a number of nonprofit organizations focusing on children, humanitarian relief, and the arts.
About the Author
Thomas Kinkade, the celebrated Painter of Light, is the most widely collected artist in the world. His tranquil, light-infused paintings affirm the basic values of family, home, faith in God, and the luminous beauty of nature.

www.thomaskinkade.com
or
Not Currently Available for Direct Purchase