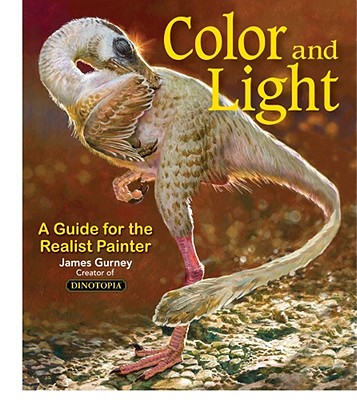 Color and Light
A Guide for the Realist Painter (James Gurney Art #2)
Paperback

* Individual store prices may vary.
Description
From New York Times best-selling author of the Dinotopia series, James Gurney, comes a carefully crafted and researched study on color and light in paintings. This art instruction book is the follow up to the acclaimed Imaginative Realism: How to Paint What Doesn't Exist.

James Gurney, New York Times best-selling author and artist of the Dinotopia series, follows Imaginative Realism with his second art-instruction book, Color and Light: A Guide for the Realist Painter. A researched study on two of art's most fundamental themes, Color and Light bridges the gap between abstract theory and practical knowledge. Beginning with a survey of underappreciated masters who perfected the use of color and light, the book examines how light reveals form, the properties of color and pigments, and the wide variety of atmospheric effects. Gurney cuts though the confusing and contradictory dogma about color, testing it in the light of science and observation. A glossary, pigment index, and bibliography complete what will ultimately become an indispensible tool for any artist.

This book is the second in a series based on his blog, gurneyjourney.com. His first in the series, Imaginative Realism, was widely acclaimed in the fantastical art world, and was ranked the #1 Bestseller on the Amazon list for art instruction.

"James Gurney's new book, Color and Light, cleverly bridges the gap between artistic observation and scientific explanation. Not only does he eloquently describe all the effects of color and light an artist might encounter, but he thrills us with his striking paintings in the process." --Armand Cabrera, Artist
Praise For Color and Light: A Guide for the Realist Painter (James Gurney Art #2)…
James Gurney's series of illustrated fantasy adventure stories, beginning with 1992's Dinotopia: A Land Apart from Time, produced a generation raised on Gurney's highly realistic paintings of an entirely unreal subject.... Still it was no surprise to the author-artist-blogger and his long-time publisher Andrews McMeel when his recently released second volume of art instruction, Color and Light: A Guide for the Realist Painter, became a bestseller for AMP immediately  upon its release in December 2010, selling out its 10,000-copy run in just two months.  (Mark Schulz, Publishers Weekly)

Dinotopia author and plein-air painter Gurney offers a practical, well-organized, and informative handbook for artists of all levels.  (Chronogram Magazine)

This is a terrific book, highly recommended not only for young artists but anyone with an interest in traditional art technique.  (Karen Haber, Locus)
Andrews McMeel Publishing, 9780740797712, 224pp.
Publication Date: November 30, 2010
About the Author
 James Gurney's unique blending of fact and fantasy has won Hugo, Chesley, Spectrum, and World Fantasy Awards. His work has been featured in one-man exhibitions at the Smithsonian Institution, the Norman Rockwell Museum, the Delaware Art Museum, and the U.S. embassies in Switzerland and Yemen. He lives with his wife, Jeanette, in the Hudson Valley of New York State.