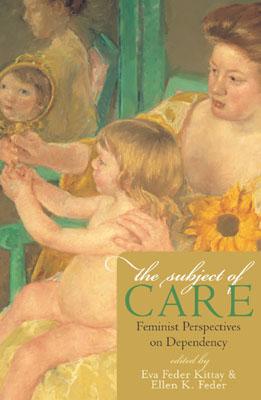 The Subject of Care (Paperback)
Feminist Perspectives on Dependency (Feminist Constructions)
Rowman & Littlefield Publishers, 9780742513631, 392pp.
Publication Date: January 29, 2003
Other Editions of This Title:
Hardcover (2/4/2003)
* Individual store prices may vary.
Description
All people spend a considerable portion of their lives either as dependents or the caretakers of dependents. The fact of human dependency--a function of youth, severe illness, disability, or frail old age--marks our lives, not only as those who are cared for, but as those who engage in the work of caring. In spite of the time, energy and resources-material and emotional, social and individual-that dependency care requires, these concerns rarely enter into philosophical, legal, and political discussions. In The Subject of Care, feminist scholars consider how acknowledgement of the fact of dependency changes our conceptions of law, political theory, and morality, as well as our very conceptions of self. Contributors develop feminist understandings of dependency, reassessing the place dependency occupies in our lives and in a just social order.
About the Author
Eva Feder Kittay is professor of philosophy at the State University of New York at Stony Brook and the author, most recently, of Love's Labor: Essays on Women, Equality, and Dependence. Ellen K. Feder is assistant professor of philosophy at American University. The pair have also coedited a special issue of Hypatia on the family and feminist theory.