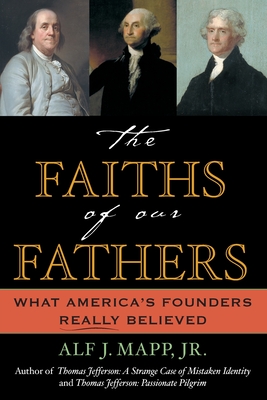 The Faiths of Our Fathers
What America's Founders Really Believed
Paperback

* Individual store prices may vary.
Description
Throughout our nation's history, the religious beliefs of America's founders have been contested and misunderstood. Did our founders advocate Christianity or atheism? In The Faiths of Our Fathers, widely acclaimed historian Alf J. Mapp, Jr. cuts through the historical uncertainty to accurately portray the religious beliefs of eleven of America's founding fathers, including John Adams, Benjamin Franklin, Thomas Jefferson, and James Madison. He discovers men with religious beliefs as diverse as their political opinions. These profiles shed light on not only the lives and times of the revolutionary generation but also the role of religion in public life throughout American history.
Rowman & Littlefield Publishers, 9780742531154, 184pp.
Publication Date: July 7, 2005
About the Author
Alf J. Mapp, Jr., has written several works on America's founding and its founders including a widely acclaimed two-volume biography of Thomas Jefferson, Thomas Jefferson: A Strange Case of Mistaken Identity and Thomas Jefferson: Passionate Pilgrim, both Book-of-the-Month Club featured selections. He resides in Portsmouth, Virginia.