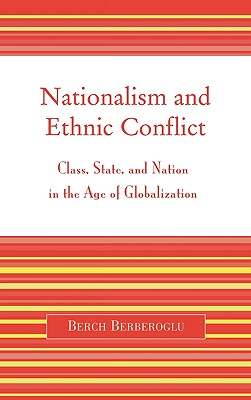 Nationalism and Ethnic Conflict
Class, State, and Nation in the Age of Globalization
Hardcover

* Individual store prices may vary.
Other Editions of This Title:
Paperback (12/13/2005)
Description
This book examines the origins and development of nationalism and national movements in the twentieth century and provides an analysis of the nature and dynamics of nationalism and ethnic conflict in a variety of national settings. Examining the intricate relationship between class, state, and nation, the book attempts to develop a critical approach to the study of nationalism and ethnonational conflict within the broader context of class relations and class struggles in the age of globalization. The book consists of three parts, made up of seven chapters. Part I examines classical and contemporary conventional and Marxist theories of nationalism. Part II provides a series of empirical comparisons of nationalism and ethnic conflict on a world scale, focusing on the Third World, the advanced capitalist countries, and Eastern Europe and the former Soviet Union. A highlight of this section of the book is a detailed comparative case study of the Palestinian and Kurdish nationalism and national movements. Part III provides a political analysis of the relationship between class, state, and nation, and lays out the class nature of nationalism and the role of the state in ethnonational conflicts that are the political manifestations of deeper class struggles that have been the driving force of nationalism and ethnic conflict in the era of globalization. Berberoglu contends that future studies of nationalism and ethnonational conflict must pay closer attention to the dynamics of class forces that are behind the ideology of nationalism by examining national movements in class terms. For only through a careful class analysis of these forces and their ideological edicts will we be able to clearly understand the nature of nationalism and ethnonational conflicts around the world.
Rowman & Littlefield Publishers, 9780742535435, 154pp.
Publication Date: August 4, 2004
About the Author
Berch Berberoglu is foundation professor and director of graduate studies in the Department of Sociology at the University of Nevada, Reno, where he has been teaching and conducting research for the past twenty-eight years. Dr. Berberoglu has authored and edited twenty-two books and many articles in numerous scholarly journals. His recent books include Class Structure and Social Transformation (Praeger), The National Question: Nationalism, Ethnic Conflict, and Self-Determination in the 20th Century (Temple University Press), Turmoil in the Middle East: Imperialism, War, and Political Instability (State University of New York Press), Labor and Capital in the Age of Globalization (Rowman and Littlefield), Globalization of Capital and the Nation State (Rowman and Littlefield) and Nationalism and Ethnic Conflict (Rowman and Littlefield).
or
Not Currently Available for Direct Purchase