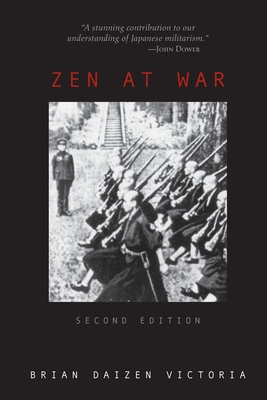 Zen at War, Second Edition (War and Peace Library)
Paperback

* Individual store prices may vary.
Description
A compelling history of the contradictory, often militaristic, role of Zen Buddhism, this book meticulously documents the close and previously unknown support of a supposedly peaceful religion for Japanese militarism throughout World War II. Drawing on the writings and speeches of leading Zen masters and scholars, Brian Victoria shows that Zen served as a powerful foundation for the fanatical and suicidal spirit displayed by the imperial Japanese military. At the same time, the author recounts the dramatic and tragic stories of the handful of Buddhist organizations and individuals that dared to oppose Japan's march to war. He follows this history up through recent apologies by several Zen sects for their support of the war and the way support for militarism was transformed into 'corporate Zen' in postwar Japan. The second edition includes a substantive new chapter on the roots of Zen militarism and an epilogue that explores the potentially volatile mix of religion and war. With the increasing interest in Buddhism in the West, this book is as timely as it is certain to be controversial.
Rowman & Littlefield Publishers, 9780742539266, 304pp.
Publication Date: August 1, 2006
About the Author
Brian D. Victoria is a Soto Zen priest and director of the Buddhist Studies Program in Japan at Antioch College. He has published widely in both Japanese and English, including Zen Master Dogen, which he co-authored, and Zen War Stories.