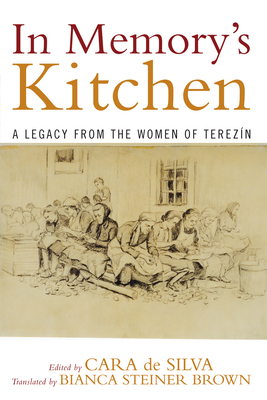 In Memory's Kitchen: A Legacy from the Women of Terezin (Paperback)
A Legacy from the Women of Terezin
Rowman & Littlefield Publishers, 9780742546462, 110pp.
Publication Date: March 10, 2006
Description
The sheets of paper are as brittle as fallen leaves; the faltering handwriting changes from page to page; the words, a faded brown, are almost indecipherable. The pages are filled with recipes. Each is a memory, a fantasy, a hope for the future. Written by undernourished and starving women in the Czechoslovakian ghetto/concentration camp of Terezin (also known as Theresienstadt), the recipes give instructions for making beloved dishes in the rich, robust Czech tradition. Sometimes steps or ingredients are missing, the gaps a painful illustration of the condition and situation in which the authors lived. Reprinting the contents of the original hand-sewn copybook, In Memory's Kitchen: A Legacy from the Women of Terezin is a beautiful memorial to the brave women who defied Hitler by preserving a part of their heritage and a part of themselves. Despite the harsh conditions in the Nazis' "model" ghetto - which in reality was a way station to Auschwitz and other death camps - cultural, intellectual, and artistic life did exist within the walls of the ghetto. Like the heart-breaking book I Never Saw Another Butterfly, which contains the poetry and drawings of the children of Terezin, the handwritten cookbook is proof that the Nazis could not break the spirit of the Jewish people.
About the Author
Cara De Silva is an award-winning journalist, whose writings have appeared in Newsday, The New York Times, The Washington Post, The Los Angeles Times Syndicate, The New York Daily News, Gourmet, Food & Wine, Eating Well, Martha Stewart Living, Cuisine, and Diversion. In addition, she has been featured on local, national, and international television and radio shows, including The News Hour with Jim Lehrer (PBS), The Morning Show (CNN), All Things Considered (NPR), and The Voice of America. She lives in New York, NY.
Advertisement