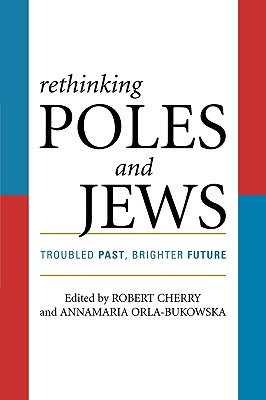 Rethinking Poles and Jews
Troubled Past, Brighter Future
Paperback

* Individual store prices may vary.
Other Editions of This Title:
Hardcover (6/7/2007)
Description
Since Polish Catholics embraced some anti-Jewish notions and actions prior to WWII, many intertwined the Nazi death camps in Poland with Polish anti-Semitism. As a result, more so than local non-Jewish population in other Nazi-occupied countries, Polish Catholics were considered active collaborators in the destruction of European Jewry. Through the presentation of these negative images in Holocaust literature, documentaries, and teaching, these stereotypes have been sustained and infect attitudes toward contemporary Poland, impacting on Jewish youth trips there from Israel and the United States. This book focuses on the role of Holocaust-related material in perpetuating anti-Polish images and describes organizational efforts to combat them. Without minimizing contemporary Polish anti-Semitism, it also presents more positive material on contemporary Polish-American organizations and Jewish life in Poland. To our knowledge this will be the first book to document systematically the anti-Polish images in Holocaust material, to describe ongoing efforts to combat these negative stereotypes, and to emphasize the positive role of the Polish Catholic community in the resurgence of Jewish life in Poland. Thus, this book will present new information that will be of value to Holocaust Studies and the 100,000 annual foreign visitors to the German death camps in Poland.
Rowman & Littlefield Publishers, 9780742546660, 230pp.
Publication Date: June 7, 2007
About the Author
Robert Cherry is professor of economics at Brooklyn College. He has written dozens of articles and four books on discrimination, and has written extensively on the American Jewish community and the Holocaust. He is the author of Who Gets the Good Jobs? Combating Race and Gender Earnings Disparities, Prosperity for All? The Economic Boom and African Americans, Discrimination: Its Economic Impact on Blacks, Women, and Jews, and The Imperiled Economy: Macroeconomics from a Left Perspective. Annamaria Orla-Bukowska teaches in the sociology department at Jagiellonian University, Krakow.