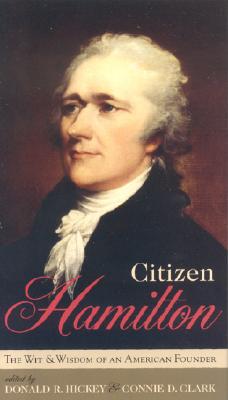 Citizen Hamilton
The Words and Wisdom of an American Founder
Hardcover

* Individual store prices may vary.
Description
A man of extraordinary talent and boundless energy, Alexander Hamilton left a remarkable legacy in America's history. A member of George Washington's staff during the American Revolution, a delegate to the Constitutional Convention, an author of the Federalist Papers, and the nation's first secretary of the treasury, he played a seminal role in the nation's founding. In this elegant collection, Donald R. Hickey and Connie D. Clark bring together enlightening, important, and amusing selections from Hamilton's speeches, published writings and personal letters. As we come to understand Hamilton's thoughts on subjects as diverse as the Constitution, love, war, liberty and honor, we find that his words are often as applicable in our own time as they were in his. From Citizen Hamilton American Character "The people of the United States are a people equally sober and enlightened; their notions of liberty are rational and orderly." Constitutional Law "A sacred respect for the constitutional law is the vital principle, the sustaining energy, of a free government." Dueling "My religious and moral principles are strongly opposed to the practice of dueling, and it would even give me pain to be obliged to shed the blood of a fellow creature in a private combat forbidden by the laws." Finding a Husband "Get a man of sense, not ugly enough to be pointed at, with some good-nature, a few grains of feeling, a little taste, a little imagination, and above a good deal of decision to keep you in order, for that I foresee will be no easy task." Happiness "Experience more and more convinces me that true happiness is only to be found in the bosom of one's own family." Money "The effects of imagination and prejudice cannot safely be disregarded in anything that relates to money." Optimism "It is a maxim of my life to enjoy the present good with the highest relish and to soften the present evil by a hope of future good." The People "The fabric of American Empire.
Rowman & Littlefield Publishers, 9780742549753, 177pp.
Publication Date: November 28, 2005
About the Author
Donald R. Hickey is professor of history at Wayne State College in Nebraska and the author of the award-winning book, The War of 1812: A Forgotten Conflict. Connie D. Clark is a freelance editor and consultant.
or
Not Currently Available for Direct Purchase