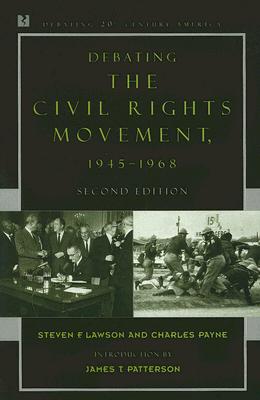 Debating the Civil Rights Movement, 1945-1968 (Debating Twentieth-Century America) (Paperback)
Rowman & Littlefield Publishers, 9780742551091, 227pp.
Publication Date: March 14, 2006
* Individual store prices may vary.
Description
No other book about the civil rights movement captures the drama and impact of the black struggle for equality better than Debating the Civil Rights Movement, 1945-1968. Two of the most respected scholars of African-American history, Steven F. Lawson and Charles M. Payne, examine the individuals who made the movement a success, both at the highest level of government and in the grassroots trenches. Designed specifically for college and university courses in American history, this is the best introduction available to the glory and agony of these turbulent times. Carefully chosen primary documents augment each essay giving students the opportunity to interpret the historical record themselves and engage in meaningful discussion. In this revised and updated edition, Lawson and Payne have included additional analysis on the legacy of Martin Luther King and added important new documents.
About the Author
Steven F. Lawson is professor of history at Rutgers University and author of Running for Freedom: Civil Rights and Black Politics in America since 1941.Charles M. Payne is Sally Dalton Robinson professor of history, African American studies and sociology and director of the African and African-American Studies Program at Duke University. He is the author of I've Got the Light of Freedom: The Organizing Tradition and the Mississippi Freedom Struggle.