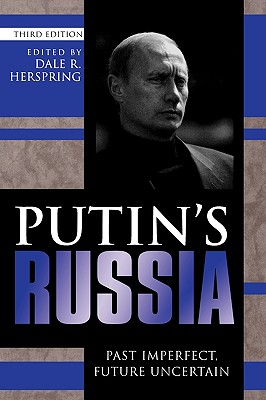 Putin's Russia (Paperback)
Past Imperfect, Future Uncertain
Rowman & Littlefield Publishers, 9780742553934, 235pp.
Publication Date: December 1, 2006
Other Editions of This Title:
Hardcover (12/1/2006)
* Individual store prices may vary.
Description
A fifth edition of this book is now available. Despite his "gradualist" approach, one of Putin's hallmarks has been change. Now thoroughly revised and updated, this essential text on contemporary Russia explores the seemingly small and unrelated reforms that have added up to a profound difference in the way the country is ruled. Since the publication of the second edition, we are now much better able to see the direction Putin is moving. Thus, the distinguished contributors offer a full-scale reassessment of Putin's leadership, exploring the daunting domestic and international problems facing Russia today. Evaluating the regime's continued efforts to rebuild a country in shambles, they consider a comprehensive array of economic, political, and social issues, along with Putin himself, whose popularity has remained high despite his authoritarian approach. The book concludes that Putin will continue to address his country's problems in an incremental and centralized manner as he moves toward his goal of restoring Russia to the status of a world power. Providing the most current and complete review of Russia available, this edition includes new chapters on leadership, law, foreign policy, and the decline of democracy. Looking ahead to Putin's legacy when he leaves office in 2008, the contributors argue that it is critical to chart where he has taken his country since 2000 if we hope to prepare for the post-Putin era. Well-written and clearly organized, this text is required reading for anyone wanting to understand Russia today. Contributions by: Timothy J. Colton, Kathryn Hendley, Dale R. Herspring, James R. Millar, Nikolai Petrov, Thomas F. Remington, Richard Sakwa, Darrell Slider, Andrei P. Tsygankov, and Stephen K. Wegren.
About the Author
Dale R. Herspring is University Distinguished Professor at Kansas State University.
or
Not Currently Available for Direct Purchase