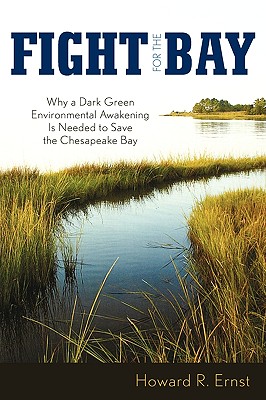 Fight for the Bay
Why a Dark Green Environmental Awakening is Needed to Save the Chesapeake Bay
Hardcover

* Individual store prices may vary.
Other Editions of This Title:
Paperback (11/16/2009)
Description
In this important new book on the declining health of one of America's leading environmental treasures, Howard Ernst reveals a Chesapeake bay that has become functionally dead. He argues that the Chesapeake Bay succumbed to a 'light green' environmental movement that has too often adopted a philosophy of compromise over confrontation and that has fueling a 'political dead zone' where political leaders posture but fail to make the hard decisions needed to achieve real improvement in the Bay's health. While blunt in his evaluation of past and present failures to restore the Bay, Ernst believes that there is still time to turn the restoration effort around and sets out new 'dark green' strategies to do so. In the concluding chapter, five long-time bay activists provide first-person accounts of their battles and hopes for the future. Hailed by Robert F. Kennedy Jr. as 'a must read for anyone concerned about environmental protection, ' this challenging book provides a wake-up call for everyone concerned about the future of the Chesapeake Bay and other ecological treasures through out America.
Rowman & Littlefield Publishers, 9780742563230, 164pp.
Publication Date: November 16, 2009
About the Author
Howard R. Ernst, professor of political science at the United States Naval Academy in Annapolis, Maryland, is the author of Chesapeake Bay Blues.