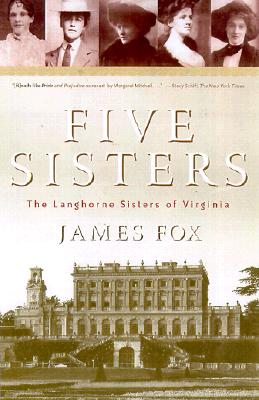 Five Sisters
The Langhornes of Virginia
Paperback

* Individual store prices may vary.
Description
The beautiful Langhorne sisters lived at the pinnacle of society from the end of the Civil War through the Second World War. Born in Virginia to a family impoverished by the Civil War, Lizzie, Irene, Nancy, Phyllis, and Nora eventually made their way across two continents, leaving rich husbands, fame, adoration, and scandal in their wake.
At the center of the story is Nancy, who married Waldorf Astor, one of the richest men in the world. Heroic, hilarious, magnetically charming, and a bully, Nancy became Britain's first female MP. The beautiful Irene married Charles Dana Gibson and was the model for the Gibson Girl. Phyllis, the author's grandmother, married a famous economist, one of the architects of modern Europe. Author James Fox draws on the sisters' unpublished correspondence to construct an intimate and sweeping account of five extraordinary women at the highest reaches of society.
Praise For Five Sisters: The Langhornes of Virginia…
Jay Strafford Richmond Times-Dispatch As a family history, Five Sisters is compellingly readable....As a portrait of a faded society, it is a social study at its best....The Langhornes come alive again in a book the reader will linger over, find ultimately moving, and finish with regret.

Stacy Schiff The New York Times Reads like Pride and Prejudice as recast by Margaret Mitchell.

Robert Skildelsky The New York Review of Books James Fox has written a psychological masterpiece....[he] has, with consummate artistry, constructed a work that is witty and sad, affectionate but just. It is impossible to put down. One wishes it would never end.

Sophy Burnham The Washington Times This book has everything everything: wealth, privilege, politics, and clandestine love affairs -- the golden dance of goddesses and the slow, inexorable decline into tragedy.

Dominick Dunne Oh, how I loved taking my time reading James Fox's Five Sisters, absorbing the sort of dazzling details of privilege and class that made his White Mischief so utterly perfect. The Langhorne sisters fascinated their contemporaries on two continents. Now one of the sister's grandsons has written their tale and shown us their worlds with enormous style.

John Richardson The most fascinating chronicle of American highlife I have ever read. James Fox deftly steers us from Margaret Mitchell country, via Henry James's New York and London, to a wonderful Evelyn Waugh-ish finale that is sad and grand and raffish.

Houston Chronicle Fox has wrestled all the Langhorne myths into coherent whole and shaped them into a rich and instructive portrait of a family and an era.

Gloria Vanderbilt James Fox draws us intimately into a domain of wealth, glamour, politics, and tragedy. One is bedazzled and repelled and ultimately bewitched by the relentless narcissism, selfishness, and cruelty of the amazing Langhorne sisters. A mesmerizing book.

Charlottte Grey The Toronto Sun A compelling portrait of high life in the most glamorous era of the British Empire....A wonderful story.

London Observer [Five Sisters] is not just a study of a family, or of an age, it is a living, breathing re-creation of a singular way of life....Fox has done more than create a monument to his family -- he has captured a fading impression and made it flow. The Langhornes are alive again.
Simon & Schuster, 9780743200424, 496pp.
Publication Date: May 2, 2001
About the Author
James Fox was born in Washington, D.C., in 1945. He worked as a journalist in Africa, and later at the Sunday Times in London. He is the author of the bestselling White Mischief.