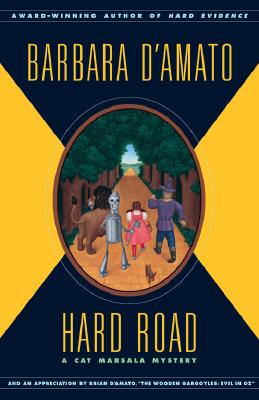 Hard Road
A Cat Marsala Mystery
Hardcover

* Individual store prices may vary.
Other Editions of This Title:
Paperback (1/1/2016)
Paperback (8/1/2007)
Description
The Harry Potter of its time, "The Wonderful Wizard of Oz" and the forty or so other books in the Oz series have become perennial sellers. There are Oz festivals, Oz fan clubs, Oz newsletters, and, of course, Oz Web sites and chat rooms. And now there's "Hard Road," a Cat Marsala mystery in which author Barbara D'Amato shares her own love of Oz.
D'Amato's father knew Oz author L. Frank Baum and as a child played with Baum's children. Five generations of D'Amato's family have been Oz aficionados, including her novelist son, Brian D'Amato, who in his essay gives us special insight into Baum's world.
The story begins at a big centennial Oz festival in Chicago's Grant Park. Investigative reporter Cat Marsala rediscovers the wonderful world of Oz when she takes her six-year-old nephew Jeremy to meet Dorothy and the Tin Man and to explore the Yellow Brick Road, the Emerald City, and all the other Oz-inspired creations to be found at the summer festival celebrating a century of Oz books.
It's opening day, and Cat is babysitting her brother Barry's young son while Barry, a professional events organizer, confers with dignitaries. But suddenly a day of pure delight turns into a scene of horror. Cat and Jeremy witness a murder, and the chief suspect is a man they both love -- Barry. He can't be the killer, but Cat also can't deny what she saw with her own eyes.
Cat's first priority is to get Jeremy away from the devastation. They run to the merry-go-round, but as they circle on the brightly painted animals, a shot rings out. Someone is aiming at Cat, or perhaps at the boy. Could Barry be desperate enough to shoot at his own sister and child, the only witnesses to thekilling?
Desperate to save Jeremy, Cat grabs him and ducks into one of the tunnels that lead out to Michigan Avenue. As she and her nephew crawl for their lives, they know they are not in Kansas anymore. Someone far more evil than the Wicked Witch is in pursuit, and the magical world of Oz seems very far away.
Anthony Award-winning author Barbara D'Amato combines a fine mystery plot with engaging insights into the ongoing appeal of the Oz books in this memorable addition to her acclaimed series. For mystery and Oz fans alike, "Hard Road" is a special treat.
Includes:
Twenty Questions in Oz: An Oz Quiz
"The Wooden Gargoyles: Evil in Oz" by Brian D'Amato
Scribner, 9780743200950, 288pp.
Publication Date: August 7, 2001
or
Not Currently Available for Direct Purchase