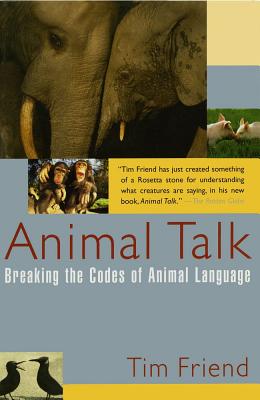 Animal Talk (Paperback)
Breaking the Codes of Animal Language
Atria Books, 9780743201582, 288pp.
Publication Date: February 9, 2005
* Individual store prices may vary.
Description
If animal behavior is mostly instinctual, why do animals need to communicate? Is it possible that there is a universal language spoken and understood by all animals on earth, including humans? Do barks, growls, rumbles, chirps, yips, and meows have communicative meanings?
"No matter what species," writes acclaimed science journalist Tim Friend, "we're all concerned with the same topics of conversation -- sex, real estate, who's boss, and what's for dinner." In Animal Talk, Friend draws upon years of field research, interviews with preeminent scientists, and lively personal anecdotes to find out how our animal neighbors communicate and what their languages mean. From bird calls to whale songs, laughing hyenas to rattling snakes, an elephant cry in the jungle to the bark of a Chihuahua in his own backyard, Friend tells the grand story of animal communication through the sounds, stripes, scents, and signals of the animals themselves.
Praise For Animal Talk: Breaking the Codes of Animal Language…
"Tim Friend has just created something of a Rosetta stone for understanding what creatures are saying, in his new book, Animal Talk."
-- The Boston Globe

"Delightful, entertaining, and instructive."
-- Publishers Weekly

"If you love animals, you'll love this book."
-- Patricia B. McConnell, Ph.D., author of the bestselling The Other End of the Leash: Why We Do What We Do Around Dogs

"An entertaining and thought-provoking tour of scientific thought."
-- Toronto Sun

"Friend flies from species to species and continent to continent, taking readers on a terrific tour of the squeaking, squawking, roaring, and raging world of animal communication. He's an excellent guide."
-- American Scientist