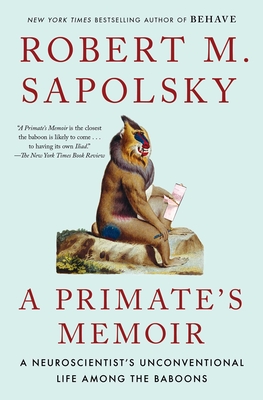 A Primate's Memoir
A Neuroscientist's Unconventional Life Among the Baboons
Paperback

* Individual store prices may vary.
Other Editions of This Title:
Digital Audiobook (12/9/2013)
MP3 CD (12/10/2013)
MP3 CD (12/10/2013)
Compact Disc (12/10/2013)
Compact Disc (12/10/2013)
Compact Disc (12/10/2013)
Hardcover (3/1/2001)
Paperback (12/1/2002)
Description
In the tradition of Jane Goodall and Dian Fossey, Robert Sapolsky, a foremost science writer and recipient of a MacArthur Genius Grant, tells the mesmerizing story of his twenty-one years in remote Kenya with a troop of Savannah baboons.

"I had never planned to become a savanna baboon when I grew up; instead, I had always assumed I would become a mountain gorilla," writes Robert Sapolsky in this witty and riveting chronicle of a scientist's coming-of-age in remote Africa.

An exhilarating account of Sapolsky's twenty-one-year study of a troop of rambunctious baboons in Kenya, A Primate's Memoir interweaves serious scientific observations with wry commentary about the challenges and pleasures of living in the wilds of the Serengeti—for man and beast alike. Over two decades, Sapolsky survives culinary atrocities, gunpoint encounters, and a surreal kidnapping, while witnessing the encroachment of the tourist mentality on the farthest vestiges of unspoiled Africa. As he conducts unprecedented physiological research on wild primates, he becomes evermore enamored of his subjects—unique and compelling characters in their own right—and he returns to them summer after summer, until tragedy finally prevents him.

By turns hilarious and poignant, A Primate's Memoir is a magnum opus from one of our foremost science writers.
Praise For A Primate's Memoir: A Neuroscientist's Unconventional Life Among the Baboons…
"[Sapolsky's] stories are remarkable. . . . A Primate's Memoir is the closest the baboon is likely to come--and it's plenty close enough--to having its own Iliad."
— New York Times Book Review

"While Sapolsky's primate observations are always fascinating, his thoughts on Africa and Africans are even more compelling. As funny and irreverent as a good ol' boy regaling his friends with vacation-from-hell stories, Sapolsky can also be disarmingly emotional . . . Filled with cynicism and awe, passion and humor, this memoir is both an absorbing account of a young man's growing maturity and a tribute to the continent that, despite its troubles and extremes, held him in its thrall."
— Publisher's Weekly (starred review)

"[Sapolsky] has a huge appetite for life, fed by his Brooklyn humor, a death-is-just-around-the-corner kind of irony. He writes exactly as if he's telling stories around a fire in the bush. And drinking. And gesturing . . ."
— Los Angeles Times

"Flies along like a well-paced and finely crafted novel. [Sapolsky's] stories about the Masai are terrific--what with the kidnapping, the blood-drinking and the blow-darting . . . A Primate's Memoir is not set up for a sequel, but reads are most likely to want one."
— Newsday
Scribner, 9780743202411, 304pp.
Publication Date: March 12, 2002
About the Author
Robert M. Sapolsky is the author of several works of nonfiction, including A Primate's Memoir, The Trouble with Testosterone, and Why Zebras Don't Get Ulcers. He is a professor of biology and neurology at Stanford University and the recipient of a MacArthur Foundation genius grant. He lives in San Francisco.