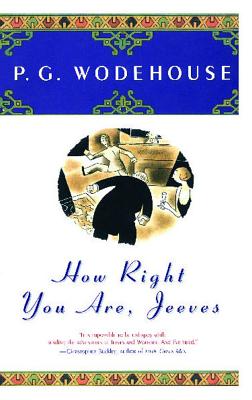 How Right You Are, Jeeves (Paperback)
Touchstone Books, 9780743203593, 208pp.
Publication Date: November 1, 2000
Description
A Bertie and Jeeves classic, featuring a cow-creamer, the redheaded Miss Wickham, and the formidable schoolmaster Aubrey Upjohn.
Jeeves is infallible. Jeeves is indispensable. Unfortunately, in How Right You Are, Jeeves, he is also in absentia. In this wonderful slice of Woosterian mayhem, Bertie has sent that prince among gentlemen's gentlemen off on his annual vacation. Soon, drowning dachshunds, broken engagements, and inextricable complications lead to the only possible conclusion: "We must put our trust in a higher power. Go and fetch Jeeves
About the Author
Sir Pelham Grenville Wodehouse (1881-1975) was an English humorist who wrote novels, short stories, plays, lyrics, and essays, all with the same light touch of gentle satire. He is best known as the creator of the bumbling Bertie Wooster and his all-knowing valet, Jeeves.
Praise For How Right You Are, Jeeves…
Christopher Buckley
author of Little Green Men

It is impossible to be unhappy while reading the adventures of Jeeves and Wooster. And I've tried.


Kurt Andersen
author of Turn of the Century

Wodehouse can be extremely funny, of course, and Bertie and Jeeves are echt-Englishmen, but the surprising and surpassing pleasure of these books is their cheerful humanity. Reading Wodehouse always makes me feel good.


David Foster Wallace
author of Brief Interviews with Hideous Men

Timelessly funny and mean.


Evelyn Waugh


Mr. Wodehouse's idyllic world can never stale. He will continue to release future generations from captivity that may be more irksome than our own. He has made a world for us to live in and delight in.
Advertisement