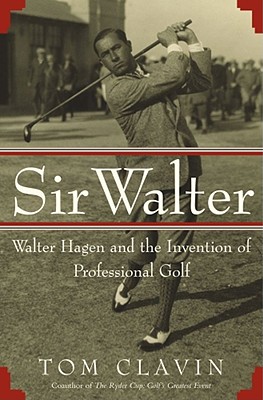 Sir Walter: Walter Hagen and the Invention of Professional Golf (Hardcover)
Walter Hagen and the Invention of Professional Golf
Simon & Schuster, 9780743204866, 384pp.
Publication Date: February 8, 2005
* Individual store prices may vary.
or
Not Currently Available for Direct Purchase
Description
During the Golden Age of Sports in the 1920s, Walter Hagen was to golf what Babe Ruth was to baseball. The first professional golfer to make his living playing the game rather than teaching it, Hagen won eleven major professional tournaments over his long career -- two U.S. Opens, four British Opens, and five PGA Championships (including an amazing streak of four consecutive PGA wins) -- a record surpassed only by Jack Nicklaus. Hagen was also influential in helping to found the Ryder Cup and was the first American golfer to top $1 million in career earnings -- a figure equivalent to over $40 million today.
Award-winning sportswriter Tom Clavin has penned a thrilling biography that vividly recalls Hagen's dazzling achievements and the qualities that made him a star. Energetic, witty, and one of the best putters ever to walk the green, Hagen was a man who loved to party, was extraordinarily generous to his friends, and golfed the world over, giving exhibitions. He preferred to travel by limousine, and if he intended to stay awhile he'd bring a second limo just to transport his clothes, which were nothing but the finest. On his many trips across the Atlantic to compete in the Ryder Cup or British Open, Hagen was known to throw parties that lasted days, ending only when the ship reached the shore. He was also the first professional golfer to admit to playing not only for the love of the game, but also for the love of the winner's purse.
Walter Hagen, forerunner of today's sports superstars, is as dynamic a character as can be found in American sports history. Bringing Hagen to life with incredible detail and countless anecdotes, Sir Walter is the authoritative biography of the man who helped create professional golf as it's known today.
Praise For Sir Walter: Walter Hagen and the Invention of Professional Golf…
"The difference between Hagen and other players is that he just wins and they just don't."
-- Bernard Darwin, The Times (London)



"The records and numbers alone speak volumes about Walter Hagen's career. But as I grew older, both personally and professionally Walter Hagen's place in history became very clear to me. Each time I was fortunate enough to carve out my own bit of history, my name was frequently linked to Hagen's, so I obviously became aware of the standards he set."
-- Jack Nicklaus



"Hagen was impressive because he was a showman. He would have a real tough shot, and he would walk up and just play it. But when he had a shot that looked fairly tough, though it was easy, why he'd move around and look at it a bit and make people think it was a real hard one. Of course, then he'd do the shot that folks thought was impossible, and the crowd loved it."
-- Byron Nelson



"I think Walter Hagen contributed more to golf than any player today or ever. He took the game all over the world. He popularized it here and everywhere. Walter was at the head of the class...[he] made professional golf what it is."
-- Gene Sarazen
Advertisement