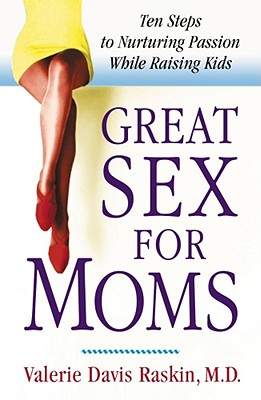 Great Sex for Moms (Paperback)
Ten Steps to Nurturing Passion While Raising Kids
Touchstone, 9780743212656, 240pp.
Publication Date: May 2, 2002
* Individual store prices may vary.
Description
The only book from a physician-mom with warm, practical, and medically sound advice that will help moms reclaim their passion for sex
There's one thing that almost every mother knows but won't discuss: Sex drive diminishes after a baby is born, and it's a struggle to reclaim passion in the years that follow.
In
Great Sex for Moms
Dr. Raskin brings the problem out into the open -- at last. From her fifteen years as a psychiatrist she knows that mothers silently rationalize that sex will return "after the baby sleeps through the night," then "when the children start having sleepovers," and then "once the kids go to college." And she believes that eighteen years is an awfully long time to wait.
Dr. Raskin reveals the reasons that women's bodies and minds betray them, resulting in a sleepy libido. The great news is that it's easier than you might think to wake it up. Insisting that a healthy parental sex life is in the children's best interests, Dr. Raskin shows you how to:
Overcome the feeling that you're the only one in America with a boring sex life
Leave your mother persona at the bedroom door to rescue your sexual self
Banish the inner censor and talk about sex with your partner
Stop frenzied, on-demand mothering so you can nourish your libido
Great Sex for Moms
is perhaps the most important book a mother can read for nurturing her marriage, her children, and above all, her own sexuality.
About the Author
Valerie Davis Raskin, M.D., is clinical associate professor of psychiatry at the University of Chicago. She lives with her family in the Chicago area.
Praise For Great Sex for Moms: Ten Steps to Nurturing Passion While Raising Kids…
Chérie Carter-Scott, Ph.D. author of The Gift of Motherhood and If Life Is a Game, These Are the Rules This book is a must for staying sane while raising children.

Isadora Alman author of Doing It: Real People Having Really Good Sex Great Sex for Moms will do much to revive the sexual pleasure and intimacy that often get lost in parenting.

Olivia St. Claire author of 302 Advanced Techniques for Driving a Man Wild in Bed Straightforward advice and proof positive that moms can be sex goddesses, too.