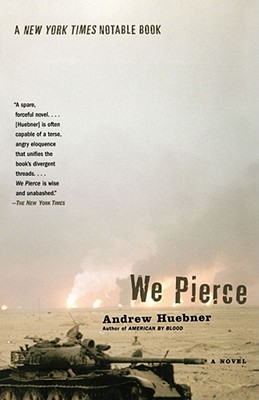 We Pierce
Paperback

* Individual store prices may vary.
Description
We Pierce is the heartbreaking story of two brothers. One brother, Smith, goes to war. The other brother, Sam, stays home and protests against the war. A true believer in his country, Smith leads a tank company into battle in Iraq during the first Gulf War. Sam, an aspiring writer who is as much a rebel as his older brother is a natural leader, is busy demonstrating in Times Square in New York and at the Capitol steps in Washington, D.C. Smith learns about the true nature of patriotism, camaraderie, modern warfare and, perhaps most important, the soldiers' secret that some things learned over there are better not brought back home. Meanwhile, Sam faces his own personal struggles, questioning the strength of his beliefs while losing a battle with alcohol and narcotics. The depth of the sacrifices made at home by their family's commitment to honor and duty to battlefields abroad haunts both of the brothers, despite their disparate experiences. As he did with his first novel, American by Blood, acclaimed novelist Andrew Huebner draws on his family's long experience with violence and military service and renders a haunting novel of war. From the desert of Iraq to the Lower East Side of New York, We Pierce is about fighting for what you believe in, no matter what the cost to yourself or your brother.
Simon & Schuster, 9780743212786, 278pp.
Publication Date: May 1, 2004
About the Author
Andrew Huebner lives in Los Angeles. He is the author of American by Blood.