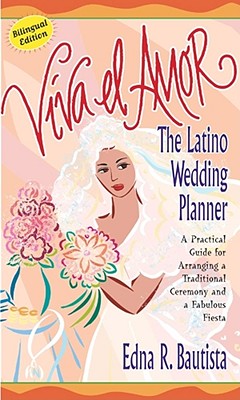 Viva El Amor (Paperback)
A Latino Wedding Planner = Long Live Love
Fireside Books, 9780743213813, 240pp.
Publication Date: July 1, 2001
* Individual store prices may vary.
Description
From incorporating family rituals and cultural traditions into your wedding to booking a "heritage honeymoon," Viva el Amor is the only book that the Latina bride-to-be will need to plan a fabulous fiesta while celebrating the sacred bond of marriage. With the inspiring ideas, realistic timetables, and practical advice of Viva el Amor, brides and their families will discover -- and rediscover -- the wealth of Latino traditions that add depth and meaning to a wedding ceremony, and find ways to add modern touches. In an entertaining and informative style, Edna R. Bautista explains the significance of such customs as the thirteen coins(las arras) and the cord(el lazo) used in the marriage ceremony, the selection of godparent-sponsors(padrinos) for support during the nuptial festivities, and the Latina-Catholic tradition of carrying three bridal bouquets. All the practical aspects of making the day perfect are here, too, including: Preparing a wedding-planning calendar, setting up a reasonable budget and gift registry, planning a menu of traditional foods, adorning the wedding party in traditional cultural dress and accessories, and choosing music for the reception that will appeal to both young and old guests. With all the steps involved in planning a customary Latino-Christian wedding or an interfaith one -- from ethnic dances to the toast -- Viva el Amor is indispensable. This bilingual book is all the Latina bride-to-be will need to plan the wedding of her dreams.
About the Author
Edna R. Bautista, an award-winning writer and educator, is certified as a wedding specialist by Weddings Beautiful Worldwide, a division of the National Bridal Service. She has worked as a bridal consultant at Bridal Classiques in Tulsa, Oklahoma, and now serves on the editorial advisory panel of Wedding Bells magazine. Dr. Bautista is a journalism and intercultural communications professor in New Jersey.