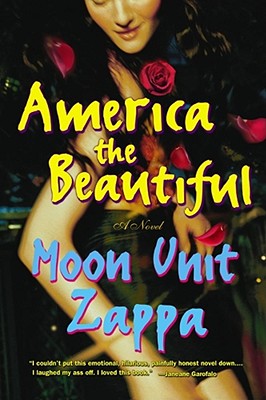 America the Beautiful (Paperback)
Touchstone Books, 9780743213837, 304pp.
Publication Date: September 1, 2001
* Individual store prices may vary.
Description
America Throne is living the good life in L.A. Her career is sprouting, and she is in love -- with Jasper Husch, a sexy-sultry artist from San Fran. But just as soon as they've realized domestic bliss, Jasper has a change of heart, and America falters on the slippery slope of hope: hoping that he will come back, hoping that new sex will erase all evidence of him, and hoping that in nurturing a truce with her dead father she will make peace with all men.
America's trip from self-destruction to wholeness is a romp on the wilder shores of the West Coast. From a dodgy therapist to a silent retreat, America Throne's "aha" moment culminates with, "While we are all busy swimming upstream, the universe is conspiring to take us to something better."
In America the Beautiful, Moon Zappa has taken the broken-heart story and given it a twist all her own through the emotional honesty and edginess of America Throne. Hailed as "brilliant" (Sunday Telegraph Magazine), America the Beautiful is the debut of an unforgettable and unfaltering new voice.
About the Author
Moon Unit Zappa is the daughter of legendary composer Frank Zappa. She won The Aspen Comedy Award for Best Alternative Comic and has written for Details and Harper's Bazaar. She lives in L.A.
Praise For America the Beautiful…
Janeane Garofalo


I couldn't put this emotional, hilarious, painfully honest novel down....I laughed my ass off. I loved this book.


Alanis Morissette


The courage, unapologetic honesty, egolessness, and humor of America the Beautiful made me smile from ear to ear....Truly inspiring!


Diane Leslie
author of Fleur De Leigh's Life of Crime

A terrific writer, Moon Unit Zappa kept me laughing and rooting for Ms. America to the last page.