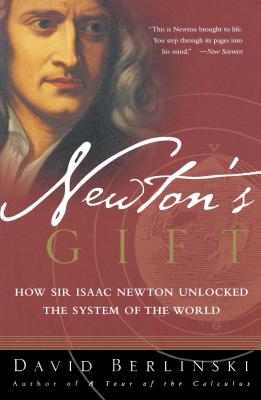 Newton's Gift (Paperback)
How Sir Isaac Newton Unlocked the System of the World
Free Press, 9780743217767, 240pp.
Publication Date: March 5, 2002
* Individual store prices may vary.
Description
Sir Isaac Newton, creator of the first and perhaps most important scientific theory, is a giant of the scientific era. Despite this, he has remained inaccessible to most modern readers, indisputably great but undeniably remote.
In this witty, engaging, and often moving examination of Newton's life, David Berlinski recovers the man behind the mathematical breakthroughs. The story carries the reader from Newton's unremarkable childhood to his awkward undergraduate days at Cambridge through the astonishing year in which, working alone, he laid the foundation for his system of the world, his Principia Mathematica, and to the subsequent monumental feuds that poisoned his soul and wearied his supporters.
An edifying appreciation of Newton's greatest accomplishment, Newton's Gift is also a touching celebration of a transcendent man.
About the Author
David Berlinski is an essayist, philosopher, and mathematician. He holds a Ph.D. from Princeton and has spent many years in various academic positions across America and abroad. He is the author of A Tour of the Calculus and The Advent of the Algorithm. He lives in Paris.
Praise For Newton's Gift: How Sir Isaac Newton Unlocked the System of the World…
New Scientist This is Newton brought to life. You step through its pages into his mind.

Julia Keller Chicago Tribune David Berlinski plus any topic equals an extraordinary book...Making simple and accessible that which had previously been murky and intimidating is Berlinski's speciality.

Hugo Rossi American Scientist Berlinski does a masterful job...The architecture of Newton's physics is laid out here clearly and sharply.

The Christian Century Berlinski draws an elegant portrait of Isaac Newton and his scientific discoveries that will captivate...A thoroughly engaging and sensitive guide to Newton's "soul-shattering worldview."