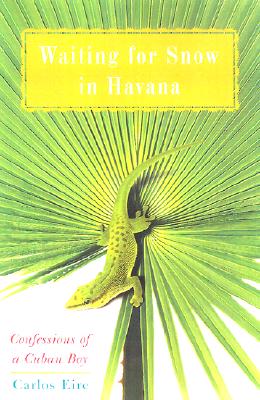 Waiting for Snow in Havana
Confessions of a Cuban Boy
Hardcover

* Individual store prices may vary.
Other Editions of This Title:
Digital Audiobook (8/15/2011)
Paperback (1/13/2004)
MP3 CD (8/16/2011)
Compact Disc (8/16/2011)
Description
In 1962, at the age of eleven, Carlos Eire was one of 14,000 children airlifted out of Cuba, his parents left behind. His life until then is the subject of "Waiting for Snow in Havana," a wry, heartbreaking, intoxicatingly beautiful memoir of growing up in a privileged Havana household -- and of being exiled from his own childhood by the Cuban revolution.
That childhood, until his world changes, is as joyous and troubled as any other -- but with exotic differences. Lizards roam the house and grounds. Fights aren't waged with snowballs but with breadfruit. The rich are outlandishly rich, like the eight-year-old son of a sugar baron who has a real miniature race car, or the neighbor with a private animal garden, complete with tiger. All this is bathed in sunlight and shades of turquoise and tangerine: the island of Cuba, says one of the stern monks at Carlos's school, might have been the original Paradise -- and it is tempting to believe.
His father is a municipal judge and an obsessive collector of art and antiques, convinced that in a past life he was Louis XVI and that his wife was Marie Antoinette. His mother looks to the future; conceived on a transatlantic liner bound for Cuba from Spain, she wants her children to be modern, which means embracing all things American. His older brother electrocutes lizards. Surrounded by eccentrics, in a home crammed with portraits of Jesus that speak to him in dreams and nightmares, Carlos searches for secret proofs of the existence of God.
Then, in January 1959, President Batista is suddenly gone, a cigar-smoking guerrilla named Castro has taken his place, and Christmas is canceled. The echo of firing squads is everywhere. At the Aquariumof the Revolution, sharks multiply in a swimming pool. And one by one, the author's schoolmates begin to disappear -- spirited away to the United States. Carlos will end up there himself, alone, never to see his father again.
Narrated with the urgency of a confession, "Waiting for Snow in Havana" is both an exorcism and an ode to a paradise lost. More than that, it captures the terrible beauty of those times in our lives when we are certain we have died -- and then are somehow, miraculously, reborn.
Free Press, 9780743219655, 400pp.
Publication Date: January 1, 2003
or
Not Currently Available for Direct Purchase