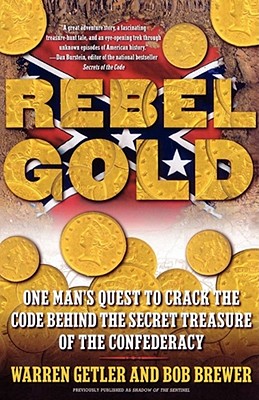 Rebel Gold
One Man's Quest to Crack the Code Behind the Secret Treasure of the Confederacy
Paperback

* Individual store prices may vary.
Description
What if a secret society, founded during the Civil War, accumulated a fortune in gold coins in the hopes of someday funding a second war between the states? What if they buried their treasure in a vast network of remote locations across the South and the Southwestern United States, and appointed sentinels to guard them -- sentinels who passed the secrets of this treasure from generation to generation? What if the keys to this fantastic treasure were hidden in a series of mysterious coded maps?

In Rebel Gold, investigative journalist Warren Getler and Bob Brewer, a descendant of one of the Confederate sentinels sworn to protect this treasure, uncover the truth behind the legend of this buried gold and the group rumored to have hidden it, the Knights of the Golden Circle. A fast-paced blend of history and modern-day detective story, Rebel Gold reveals a shadowy chapter in American history -- and how its legacy may be continuing to this day.
Praise For Rebel Gold: One Man's Quest to Crack the Code Behind the Secret Treasure of the Confederacy…
Dan Burstein, editor of the national bestseller Secrets of the Code: The Unauthorized Guide to the Mysteries Behind The Da Vinci Code Rebel Gold is a great adventure story and a fascinating treasure-hunt tale, but it is much more than that. It is an improbable, fantastic, and yet ultimately eye-opening trek through unknown, unseen, and unremembered episodes of American history. Jesse James, Confederate gold, the Knights of the Golden Circle, Freemasons, Albert Pike, the Ku Klux Klan, mysterious maps, codes, and symbols, echoes of the Knights Templar: It would make a great case for Dan Brown's Robert Langdon character -- except Warren Getler and Bob Brewer got there first -- and in non-fiction!
Simon & Schuster, 9780743219693, 320pp.
Publication Date: January 3, 2005
About the Author
Warren Getler is an investigative journalist based in Washington, D.C. Previously he has been a New York-based financial reporter for The Wall Street Journal and a London and Frankfurt correspondent of the International Herald Tribune.

Bob Brewer is a U.S. Navy Vietnam War veteran who grew up in Hatfield, Arkansas. Since retiring from the Navy, he has returned to Arkansas to devote his time to investigating the mysteries of the Knights of the Golden Circle.