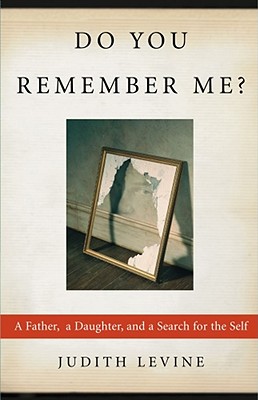 Do You Remember Me?: A Father, a Daughter, and a Search for the Self (Hardcover)
A Father, a Daughter, and a Search for the Self
Free Press, 9780743222303, 310pp.
Publication Date: May 11, 2004
* Individual store prices may vary.
or
Not Currently Available for Direct Purchase
Description
In her award-winning Harmful to Minors, Judith Levine radically disturbed our fixed ideas about childhood. Now, the poignantly personal Do You Remember Me? tackles the other end of life. The book is both the memoir of a daughter coming to terms with a difficult father who is sinking into dementia and an insightful exploration of the ways we think about disability, aging, and the self as it resides in the body and the world.
In prose that is unsentimental yet moving, serious yet darkly funny, complex in emotion and ideas yet spare in diction, Levine reassembles her father's personal and professional history even as he is losing track of it. She unpeels the layers of his complicated personality and uncovers information that surprises even her mother, to whom her father has been married for more than sixty years.
As her father deteriorates, the family consensus about who he was and is and how best to care for him constantly threatens to collapse. Levine recounts the painful discussions, mad outbursts, and gingerly negotiations, and dissects the shifting alliances among family, friends, and a changing guard of hired caretakers. Spending more and more time with her father, she confronts a relationship that has long felt bereft of love. By caring for his needs, she learns to care about and, slowly, to love him.
While Levine chronicles these developments, she looks outside her family for the sources of their perceptions and expectations, deftly weaving politics, science, history, and philosophy into their personal story. A memoir opens up to become a critique of our culture's attitudes toward the old and demented. A claustrophobic account of Alzheimer's is transformed into a complex lesson about love, duty, and community.
What creates a self and keeps it whole? Levine insists that only the collaboration of others can safeguard her father's self against the riddling of his brain. Embracing interdependence and vulnerability, not autonomy and productivity, as the seminal elements of our humanity, Levine challenges herself and her readers to find new meaning, even hope, in one man's mortality and our own.
Praise For Do You Remember Me?: A Father, a Daughter, and a Search for the Self…
Publishers Weekly
starred review

Unsentimental and unsparing, this work studies in unnerving detail what happens when the mind begins to separate from the body [in Alzheimer's disease] and how our society has no model for coping with such fragmentation....A searing indictment of how America treats its disabled, and a cautionary tale for aging baby boomers.

Kirkus Reviews
starred review

A tenaciously engaged memoir from Levine about her relationship with her parents as her father drifts deeper and deeper into Alzheimers....She grapples with her feelings for her father, who was an overbearing, provocative (and occasionally violent) lord of misrule; she considers and rejects taking him uder her own care; she jousts with her mother over her seeming abandonment of her husband. It is a maddening, very human dance, and Levine gets it down just right.

Vivian Gornick
author of Fierce Attachments

This is one of the most interesting memoirs that I have read. It does that rare thing: combines an honest tale of family life with a vivid -- and wonderfully informed -- presentation of what it means to be overcome by dementia. This is one Alzheimer's memoir that I predict will be read for years to come.


Sharon Salzberg
author of Faith and Lovingkindness

With wry wit and unfailing courage, Levine has written an articulate, inspiring, heart-breaking and humble book. More than a memoir, this is a thought-provoking journey of self-discovery for the reader as well.


David Shenk
author of The Forgetting

Honest and smart, Judith Levine's book is not just another caregiver's memoir. It's a valuable addition to the literature of aging and decline.


Mark Matousek
author of The Boy He Left Behind

This brave, hilarious, heartrending tale is the cri de coeur of the too-smart daughter allergic to lies and sentiment, asking the scariest questions of all: Who am I because of my blood? How do we know it was really love?
Advertisement