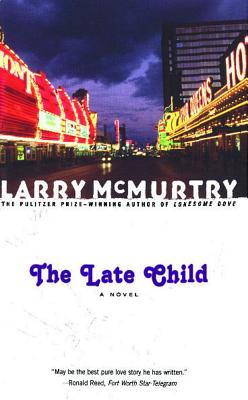 The Late Child (Paperback)
Simon & Schuster, 9780743222549, 480pp.
Publication Date: March 5, 2002
Description
An unforgettable addition to his widely acclaimed body of work, The Late Child is Larry McMurtry's tender, funny, and poignant sequel to The Desert Rose. McMurtry delivers another rich cast of characters -- and a heartfelt, bittersweet story that unfolds on the open road, in one woman's search for strength, understanding, and hope.
Harmony is the optimistic, resilient Las Vegas ex-showgirl who returns home one day to the news that her beloved daughter has died, in New York, of AIDS. She manages to stay afloat, buoyed by her precocious five-year-old son, Eddie, and her two outspoken sisters as they set forth on a journey across the country, seeking answers about her daughter's death. From Nevada to New York to Oklahoma, the eccentrics Harmony and her entourage meet nudge them closer to an inner peace with life, and a way to find hope in the future. Alive with inventive storytelling and honest emotion, The Late Child is a warm, enriching experience that celebrates the unique relationship between mother and child.
Praise For The Late Child…
Ronald Reed Fort Worth Star-Telegram May be the best pure love story he has written.



Malcolm Jones Jr. Newsweek Intensely lively...Harmony holds us even tighter than she did in The Desert Rose...In The Late Child, the former showgirl...achieves heroic proportions.



Peggy Payne The Dallas Morning News Deftly told. Wildly imaginative, with quick, sharp characterizations...delicious in details from start to finish.
Advertisement