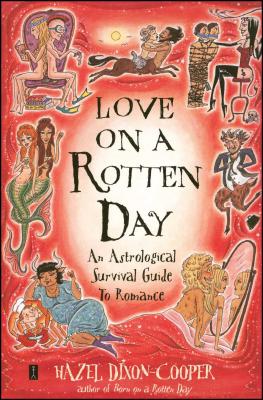 Love on a Rotten Day (Paperback)
An Astrological Survival Guide to Romance
Atria Books, 9780743225632, 256pp.
Publication Date: February 3, 2004
* Individual store prices may vary.
Description
The definitive guide to losing—or finding—your true soul mate.

Did you know: Capricorns are cowards when it comes to public displays of affection? Aries get amorous in unusual places? Leos love to be serviced? Cosmo's Bedside Astrologer, Hazel Dixon-Cooper, reveals all this and more in this sexy, uninhibited guide to love and romance, the follow-up to her hip and hilarious Born on a Rotten Day. In Love on a Rotten Day, Dixon-Cooper walks the wild side of the zodiac, delivering the goods on which sign cheats and who's a manipulator, a bully, a brat, a nutcase, or a nympho. Lovers, would-be lovers, and ex-lovers will rejoice in advice on how to:

-Safely dump a Scorpio
-Convince a Virgo to have spontaneous sex
-Snag a romance-phobic Aquarius

An honest and uproarious guide to losing and finding your true soul mate, Love on a Rotten Day is this century's answer to the timeless query "What's your sign?"
About the Author
Hazel Dixon-Cooper has been a professional astrologer for more than twenty-five years. She is the author of the Rotten Day humorous astrology book series. She has written astrology articles and columns for a variety of newspapers and magazines, including Cosmopolitan magazine's Bedside Astrologer column. She is a popular guest on a wide variety of international, national, and regional radio programs.
Praise For Love on a Rotten Day: An Astrological Survival Guide to Romance…
Suzanne White novelist and creator of The New Astrology Dixon-Cooper reveals what every astrologer knows but none has ever dared say.

Stuart Hazleton author of Sexscopes Delivers the dirt on every sign, and then some! A fun, fast-paced, and frantically funny read.